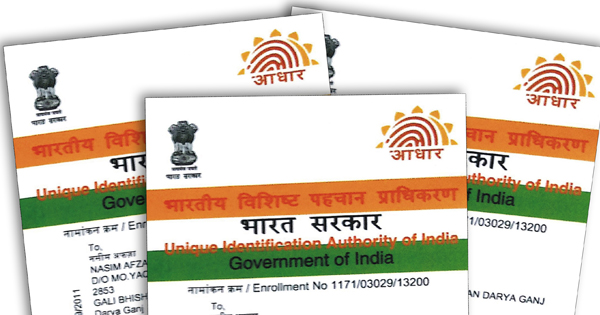 You can not imagine how this unique combination of 12 digits brings importance to your life. Aadhar card becomes an important part of Indian citizen's life as the government now harden the policies where aadhar card plays an important. Now there are a number of important work you can not do without aadhar card. Every department of Indian government making it compulsory to have aadhar card due to which right from a common man to celebrities everyone is now compelled to have aadhar.
You can not take advantage of government subsidies, scholarships without aadhar card, you can not travel, even now you can die without having aadhar card. When the Modi's government increasing the importance aadhar card in this situation you must be aware of what things you can not do without addhar card we have mentioned below
You can now travel without aadhar card
If you want to travel from one country to another you must have aadhar as without aadhar card you can make your passport. Aadhar defines your nationality. So, it want to make password first you have to apply for aadhar card.
You can not exercise your Bank Account
If you already have a bank account or want to open an account in the bank then you must have your adhar card. If you already have an account then linking a bank account with aadhar is now necessary. All types of banks including government, private or semi government banks are now offering online linking facilities.
You can not apply for PAN card
You are now an income tax payee or not but if you want to have your PAN card then you must have aadhar card which mandatory while applying for PAN card. Even if you have PAN card then it is compulsory to link PAN card with aadhar card.
You can not file your income tax
Though Income tax department has given exemption to payers to pay income tax without linking aadhar with PAN for some time it now compulsory to link PAN with aadhar for paying income tax. This year your filled income tax will not come into the process if you have not linked aadhar with Pan yet.
You can not exercise your voting rights
Not casting votes also needed aadhar card you have to link your voter ID with aadhar card to cast you vote at the time of elections. Voter ID card will not be considered as valid if you didn't link aadhar with voter ID.
You can not die without having aadhar card
From 1st of oct it died without having aadhar card then your relatives will not able to apply for your death certificate. Having birth certificate also needed aadhar card.
You can not have Employee Provident funds account
Employees' Provident Fund Organisation stated aadhar card is now mandatory to have employee PF account. You can not take advantages of PF account without having aadhar card
For PDS Subsidy
If you can not having aadhar card then you can not take advantages of PDS subsidies provided by Indian government
You can have new phone number
To have a new phone number you must have aadhar card. Even you have to submit aadhar card for verification for your already have phone number other wise it can be blocked.
Other than these all students, employees, business man, house wife every one now mandated to have aadhar card for their day to day activities and needs. If you ye not applied for aadhar card now apply of aadhar card online or offline or download aadhar card online easily.