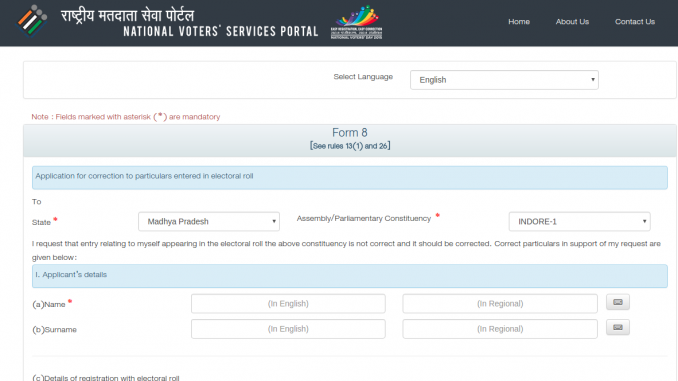 Voter ID, an identification of Indian voters to exercise their right to choose candidates for the Indian government. Indian is one of the biggest democratic country in the world where every individual has to register their votes in the favor of their preferred candidate at the time of elections. Voter ID is one of an important document that every eligible member should carry it can be used at address and photo proof so the information that defines on the voter ID should be correct as it defines your identity. If you find any mistake on your voter ID you must take action for voter ID correction. Here In this article, we are going to learn how we can change or correct information in voter ID.
First, we need to understand what type of mistake we can usually see in voter ID's information.
Generally, we can see spelling mistakes, incorrect names, wrong date of birth, mistakes in address etc. Election commission of India always tries to rectify these mistakes through different means previously it can be done only offline, but now with the launch of an online portal, ECI offers the simplest way to get your Voter ID information corrected with few number of clicks.
How to correct information in voter ID?
Correct information of voter ID is very necessary because voter ID contains wrong information then you can loose a chance to exercise your right to vote, even you may face a big problem when you use voter ID as a proof. Now Voter ID correction is not remained difficult as previous, it becomes easier you just have to follow some easy steps to make changes in the voter ID it can be done by both online and offline processes.
Step to follow for voter id correction online
Online voter ID correction is the simplest method, if anytime you find incorrect information on voter ID or if case you want to change the name then you have to follow step that is mentioned below:
Very first step for voter Id card correction is to visit official portal of voter's services i.e. http://www.nvsp.in/ National voter's service portal that have all means to simplify your voter ID related problems
Now on the website, you will see a box with title "Correction of entries in electoral roll" below which you will find a "Click Here" button
You have to click on the button then you will be redirected to another page of the website which contains Form 8. This is the place where Voter ID correction can be done
Now you have to fill all the information that has been asked in the form and the fields that are having * mark are compulsory to fill out. You can select a language from a uperside scroll that will show three language options Hindi, English, and Malayalam. Information includes your state, assembly, name, a Part number of the electoral roll, Serial No. of Electoral Roll, now you have to select the field that you want to be corrected click on your preferred field, the section will be activated according to option that you have selected.
Now you have to submit your age proof, address proof, and a photograph
After submitting all the proofs now click on Submit button or reset button to refill all the information again.
After receiving your request ECI officers will verify the information and take actions accordingly. You can check voter ID correction status online at the same website.