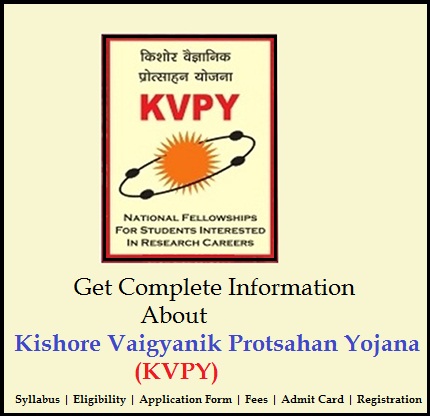 About KVPY: The most popular Scholarship Yojana, Kishore Vaigyanik Protsahan was constructed by the Indian government under the guidence of Department of Science and Technology. The main objective of this programme is to stimulate students to start their careers in the field of Science and Technology. Kishore Vaigyanik Protsahan Yojana provide scholarship and big opportunities up to the higher level for deserving students. In 1999, IIS organises Kishore Vaigyanik Protsahan Yojana to create curiosity and provide basic facilities for those students who are highly telented and wants to pursue their career in science and technology.
Currently Indian Institute of Science (IIS) in Bangalore looks after all the responsibility of conducting and running the KVPY Program. Previously these responsibilities are oversee by the Department of Science and Technology of Indian Government. The Indian Institute of Science constructed a National Advisory Committee (NAC) and Management Committee for checking its implementation. A core committee oversee both daily and academic details of the KVPY Program.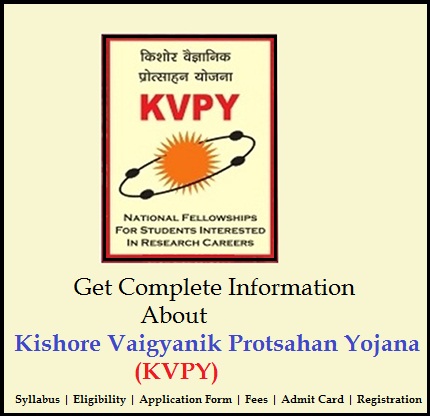 The Objectives Of Kishore Vaigyanik Protsahan Yojana
1. The main objective of Kishore Vaigyanik Protsahan Yojana is to find out the talented student who wants to start their career in Science.
2. This sheme help Indian youth to realise their strength in their studies
3. The KVPY motivate students to research in Science, and build story knowledge in science and technology which will contribute in the growth of nation.
Kishore Vaigyanik Protsahan Yojana Selection Procedure
A student who are studying in 10 class to higher class with subjects of science like B.sc, M.sc, in Physics , Mathematics, Chemistry and Biology can appears in the scholarship exam conducted by Kishore Vaigyanik Protsahan Yojana. The government of India formed special committees at IISc, to check the applications forms and to organize written test at various centres in the country. Students are shortlisted and called for a next round on the basis of the performance in the written test. For selection of Kishore Vaigyanik Protsahan Yojana fellowship, marks of written test and interview test are considered.
There are two stages of selection procedure
• Aptitude Test
• Interview.
Fellowship Amount in Kishore Vaigyanik Protsahan Yojana
1. Students who are studying in 1st to 3rd years of – B.Sc, M.sc, B.Stat., M.S., B.Math. will receive five thousand rupees per month and Twenty Thousand every year.
2. Students who are studying in 4th to 5th year of M. Sc. & M.S will receive Seven Thousand rupees monthly and Twenty- Eight Thousand rupees yearly.
Eligibility Criteria for Kishore Vaigyanik Protsahan Yojana
All the Students of both government and private schools who are studying in Class 10th and 12th are suitable for Kishore Vaigyanik Protsahan Yojana (KVPY) scholarship programme. Only India students are permitted to appear in the KVPY fellowships program.
Kishore Vaigyanik Protsahan Yojana Application Form Fee
• For General Category/OBC : Rs 1000
• For SC/ST/PWD : Rs 500
Kishore Vaigyanik Protsahan Scholarship Exam Pattern
There are two formats in which candidates can appear in the aptitude test.
• computer-based
• Paper-pen mode.
Total 80 questions are asked in the scholarship exam of KVPY scholarship asked for SA stream and for SB/SX stream, 120 questions asked. There is no specified kishore vaigyanik protsahan yojana syllabus for the aptitude test, but questions are set according to the syllabus of 10th / 12th class /First year of B.Sc , M.sc, B.S . M.S, B.Stat.
Exam Centres for Kishore Vaigyanik Protsahan Scholarship Exam

Agarthala (Tripura)
Mumbai (Maharashtra)
Guwahati (Assam)
Hubli (Karnataka)
Agra (Uttar Pradesh)
Ahamedabad (Gujarat)
Mysore (Karnataka)
Nagpur (Maharashtra)
Hyderabad (Telangana)
Indore (Madhya Pradesh)
Allahabad (Uttar Pradesh)
Ambala (Haryana)
Noida (Delhi-NCR)
Patna (Bihar)
Jaipur (Rajasthan)
Jalandhar (Punjab)
Aurangabad (Maharashtra)
Bangalore (Karnataka)
Jammu (Jammu and Kashmir)
Pune (Maharashtra)
Belgaum (Karnataka)
Raipur (Chhattisgarh)
Rajkot (Gujarat)
Jamshedpur (Jharkhand)
Jodhpur (Rajasthan)
Bhopal (Madhya Pradesh)
Bhubaneshwar (Orissa)
Ranchi (Jharkhand)
Rourkela (Orissa)
Kanpur (Uttar Pradesh)
Salem (Tamil Nadu)
Chandigarh (Chandigarh)
Chennai (Tamil Nadu)
Kochi (Kerala)
Kolkata (West Bengal)
Coimbatore (Tamil Nadu)
Siliguri (West Bengal)
Thrichur (Kerala)
Kozhikode (Kerala)
Kurnool (Andhra Pradesh)
Dehradun (Uttarakhand)
Delhi (Delhi-NCR)
Trivandrum (Kerala)
Vadodara (Gujarat)
Lucknow (Uttar Pradesh)
Madurai (Tamil Nadu)
Durgapur (West Bengal)
Faridabad (Delhi-NCR)
Mangalore (Karnataka)
Varanasi (Uttar Pradesh)
Vijayawada (Andhra Pradesh)
Visakhapatnam (Andhra Pradesh)
Ghaziabad (Delhi-NCR)
Mohali (Punjab)
Nessasary things For KVPY Exam
kishore vaigyanik protsahan yojana admit card exam is issues by the set up community before two weeks of the exam date. Candidates will not allow to enter in an exam without a valid admit card.
Kishore Vaigyanik Protsahan Scholarship Exam dates
Normally Kishore Vaigyanik Protsahan Exam held on the Technology Day that is 11th May of every year. The KVPY aptitude test is usually organised in the month of November every year and the final around is held in the month of January and February. Member of Vaigyanik Protsahan Scholarship program publishe answer Keys of the exam on the official website of KVPY i.e. http://kvpy.iisc.ernet.in/ within 10-12 days of the Aptitude Test.
Declaration of Kishore Vaigyanik Protsahan Scholarship Exam Result
The board of authority of Kishore Vaigyanik Protsahan exam declared the result of aptitude test after one month of the exam. The students, who are selected from the aptitude test, are invited for the final interview round. The final result will declare after the completion of both round of selection procedure.
Contact Details for Kishore Vaigyanik Protsahan Scholarship Exam

Address:
The Convener,
Kishore Vaigyanik Protsahan Yojana,
Indian Institute of Science,
Bangalore – 560012

Fax: (080) 2360 1215
Telephone: (080) 22932975 / 76, 23601008, 65474150