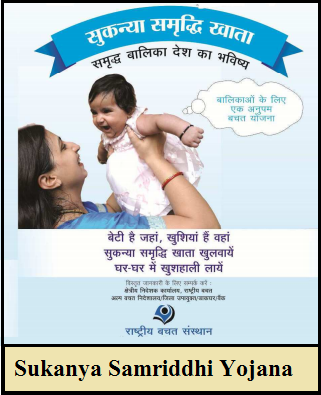 Sukanya Samriddhi Yojana is a girl child welfare programme under Beti Bachao Beti padhao program of Prime Minister Narendra Modi. The main aim of Sukanya Samriddhi Yojana (सुकन्या समृद्धि योजना) is to protect the future for girl children in India. This yojana is constructed to provide proper education and marriage expenses to the girl child. This Yojana was launched on 22 January 2015 by Prime Minister Narendra Modi.
Sukanya Samriddhi Account is a scheme launched by Government of India which targeted at the parents of girl children. The scheme uplifts parents of the female child to build a fund to ensure the future for the girl child. The program currently provides an interest rate of 8.6% (for FY2016-17) and tax benefits. The Sukanya Samriddhi Yojana account can be opened at any India Post office or branch of any authorised banks.
Sukanya Samriddhi Yojana is another powerful step of the Government of India to secures the Girls of India. Honourable Prime Minister of India, Sh. Narendra Modi Ji is worked really hard to make our country capable so it can stand in the list of developed countries. He launched Sukanya Samriddhi Account "A Small Savings Scheme" on 22nd January 2015, it is the segment of "Beti Bachao – Beti Padhao" initiative of Government of India (GOI) also known as BBB. Despite profound efforts from Government of India, Sex ratio in India is still a big concern and it shows the backwardness of the country. It's really appreciable that Govt of India is taking steps to change the mentality of people towards Girl Child. Recently Government of Indian broadcast few TV ads with a deep social message which spread awareness about the importance of Girl Child.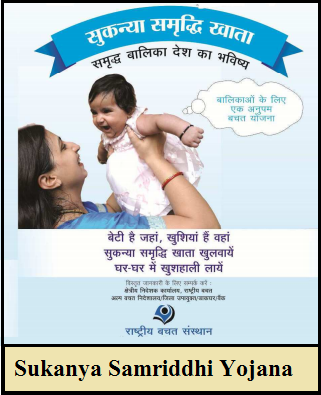 Sukanya Samriddhi Account Yojana is an valuable step in the direction of Girl prosperity. The main objective behind it is to balance the Gender imbalance and create a constructive environment in favour of Girl Child.
Documents required to open Sukanya Samriddhi Yojana Account
The two parties are involved in account opening, girl child and her parents or legal guardian. The maximum age limit of opening Sukanya Samriddhi Account is 10 years only.
1. Birth Certificate of the Girl Child: In many cases, birth certificate issued by the hospital may not have the name of the girl child. In that case, you should change the certificate first with the name and then apply for this account.
2. Identity Proof or PAN Card & Aadhaar Card of the Parent/Legal Guardian: Identity proof is needed to prove that you are a citizen of Indian and if you don't have Aadhaar card then can provide voter id, a passport to proof your identity.
3. Aadhaar Card or Residence Proof of the Parent/Legal Guardian: For resident proof yon can give voter id, electricity bill, aadhaar card, and passport. If you have an account in post office then you may also provide that account passbook copy as an address proof.
4. Photographs of Parent/Legal Guardian & the girl Child
Rules for Opening Sukanya Samriddhi Yojana Account
Now you can open Sukanya Samriddhi Yojana bank account for adopted girl child too.
You can also deposit Money Online.
Girl Child herself can also deposit money.
Interest Rate in SSY scheme would be calculated on the 10th Day of every month. At the beginning, it was the 5th day of the month.
Initially you can deposit money for 14 years but now you will deposit money for 15 years.
You can partial withdrawal the money only when she cleared 10th or she turned 18 years.
Account will earn interest after it becomes matured
You can also transfer you SSY accounts. Post office to post office transfer would be free but the transfer from Post office to banks or vice versa would cost 100 rupees.
You can get the duplicate passbook of your Sukanya Samriddhi Yojana Account at the cost of rs 50
Now you can withdraw 100% amount after girl child turned into18.
Benefits of Sukanya Samriddhi Yojana Account
1. Samriddhi Yojana Account Gives Highest Interest Rate among all Small Savings Schemes offered by Govt of India
This scheme will offer 9.1% an interest rate for current financial year i.e. FY 2015-16. This is the highest interest rate among all Small Savings Schemes. The rate of interest for this scheme will be market linked. It is 75 bps or 0.75% above the average 10-year G-Sec yield for the previous year. Every year the Interest Rate applicable for the Financial Year will be declared by the Govt of India. Interest will be calculated yearly i.e. will be credited on a yearly basis. It will arise on a monthly basis on the lowest amount between 5th and last day of the month.
2. Tax Savings
In order to uplift people to open Sukanya Samriddhi Yojana Account, Govt has liberated contribution to this account u/s 80C of the Income Tax Act, 1961. This scheme will be EEE i.e. liberation will also be accessible on interest amount and at the time of withdrawal. It is under deliberation of Department of Revenue (DOR). DOR will soon bring an administrative enhancement to this effect. It will be a most tax effective program.
3. Lock-up Period
Sukanya Samriddhi Yojana is the most efficient Khata because the maturity of this account is 21 years from the date of opening of the account. You can also partially withdraw the amount but for this girl child must complete her 10th class or girl should be 18 years before this money withdraws is not possible.
4. Motive of Sukanya Samriddhi Yojana
Sukanya Samriddhi Yojana Khata is introduced with the main objective is to ensure the future of Girl Child. Due to this fruitful scheme Marriage or Education is no longer burden for parents of the girl child.
5. Maturity Amount to be paid to Girl Child
Maturity amount with increased interest is only given to the account holder which gives a girl independency in order to secure her future.
6. Interest to be paid even after Maturity
If the account holder did not want to close her Sukanya Samriddhi Yojana Account even after maturity then she will received Interest till final closure of the account.
7. Flexibility to Handle Sukanya Samriddhi Account
The Government of India has given a lot of flexibility and freedom in terms of account operations.
(a) Parents of a female child can open Sukanya Samriddhi Accounts with the amount of Rs 1000 and thereafter any amount which is a multiple of Rs 100 can be deposited in the account. Every Financial Year, a minimum Rs 1000 should be deposited to keep an account active. In the case of two Sukanya Samriddhi Accounts, if you have two daughters, the cumulative contribution cannot exceed 1.5 Lakh during Financial Year.
(b) When Girl Child turned age 10, she can operate her account
(c) The account can be closed if account holder cannot deposit minimum amount monthly.
(d) You can transfer your Sukanya Samriddhi Account anywhere in India
List Of Authorized Banks In Which You Can Open Sukanya Samriddhi Accounts
On Mar 11, 2015, RBI authorised 28 banks to open Sukanya Samriddhi Account.
You can open your account in any branch of following 28 banks.
State Bank of India (SBI)
State Bank of Bikaner & Jaipur
State Bank of Patiala
State Bank of Hyderabad
State Bank of Travancore
State Bank of Mysore
Allahabad Bank
Andhra Bank
Bank of Baroda
Bank of India
Bank of Maharashtra
Punjab & Sind Bank
Central Bank of India
Canara Bank
Dena Bank
Corporation Bank
Indian Bank
Punjab National Bank
Indian Overseas Bank
Syndicate Bank
Oriental Bank of Commerce
UCO Bank
Union Bank of India
Vijaya Bank
United Bank of India
Axis Bank Ltd.
IDBI Bank Ltd.
ICICI Bank Ltd.
Mode of Investment Sukanya Samriddhi Account
You can deposit money by Cash, Cheque, Online payment and Demand draft. All methods are acceptable
Latest News about Sukanya Samriddhi Yojana
NRI or OCI cannot invest in Sukanya Samriddhi Account. This scheme is only for the Girl Child who is Resident Indian Citizen. In future, if the girl child changes her resident from Indian to NRI then NO INTEREST amount will be paid from the date of the change her residential address. In this case, the Sukanya Samriddhi Yojana Account will be considered CLOSED. The parent or guardian of the girl child should inform the bank or post office about the change in residential status within one month.
Sukanya Samriddhi Yojana Account Limits:
You can only open one account in the name of one girl child
Maximum two accounts can be opened in the name of two different Girl children.
You can open 3 accounts only if you have three female child. But if you have twins in first birth as well as in second birth then account can only be opened for the two girl child born in 1st birth.
Rate of Interest under the Scheme: 2016-17
In the year 2016-17 interest rate of Sukanya Samriddhi Yojana is 8.6%, yearly compounded.
Every quarter GOI will declare the ROI applicable for that financial quarter.
Interest amount will be compounded yearly.
Interest amount will be paid on money deposited on or before 10th of a month for that month.