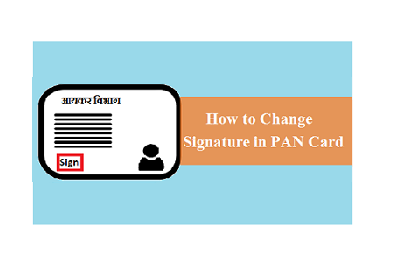 Here is a guide, which will state the steps needed to change signature in PAN Card. If your Sign is mismatching or entered wrong then by following below process you can change/Update Signature in PAN Online and Offline. In Case if you forgot or misplaced your PAN, then you can Know Your PAN by Name and Date of Birth easily.
Process for PAN Card Signature Change:
1) Open the NSDL Website for PAN Card
2) Check the category of the applicant
Go through all the guidelines cautiously. You can also change the text in Hindi to read it in Hindi Language. Scroll down the page till the end and you will be able to choose the category of the applicant.
3) Select the applicant's category from the drop down menu and click on select.
4) Fill up the PAN Application form with necessary changes in signature
Fill the entire form carefully. In the end, after filling up the form, a fee of Rs.107 has to be given by Demand Draft, Cheque, Credit or Debit Card, Net Banking.
All the fields marked with * are compulsory.
• Please keep a check equivalent to the Field No.8 i.e., signature does not match.
• Keep in mind that you need to fill your current PAN Number in the box saying Permanent Account Number (PAN).
• Put forward this form after filling it completely.
If the applicant wants to go for paperless PAN application for change in signature, he or she may select "yes" where a digital signature is needed. Or else select "no".
In Paperless or online PAN application, you can upload your photograph, signature and documents online and there is no need of physical submission of the documents and the PAN card signature change process would finish here.
Applicants eager to submit hard copies of the documents may continue with step no.5.
Also Read: How to Change Name on PAN Card
5) Take printout of acknowledgement form
You will now get an acknowledgement form with a sixteen digit acknowledgement number. Just take a printout of this acknowledgement form.
6) Add recent photographs on the acknowledgement form
You need to add two recent photographs with white background in this acknowledgement form in the space given. Place your signature in the box.
7) Enclose the demand draft or cheque in the cover
Put in your demand draft or cheque (If you did not pay via online mode), acknowledgement form and the self attested documents stated earlier in the form in a cover. Do not overlook to mention you acknowledgement number on the back side of the DD or cheque.
8) Heading on the PAN Application cover
Heading on the cover should be "Application for PAN change request -Acknowledgment Number".
For example: If your Acknowledgement Number is 10887677008, then the heading on the cover should be "Application for PAN change request – 10887677008"
9) Post the cover on the address of NSDL
You should post this cover to the physical address of NSDL, which is:
Income Tax PAN Services Unit, NSDL e-Governance Infrastructure Limited, 5th floor, Mantri Sterling, Plot No. 341, Survey No. 997/8, Model Colony, Near Deep Bungalow Chowk, Pune – 411016.
Phone number: 020 – 2721 8080.
10) Signature Change PAN application time limit to get to the NSDL Office
Ensure the cover with your PAN application and sustaining documents should get to the NSDL address within fifteen days after receiving the acknowledgement.
Your PAN application will be sent for handing out as soon as NSDL gets it. You will get an e-mail concerning the same on your e-mail id. You must have seen that this method to make changes in PAN card signature is simple and problem free.