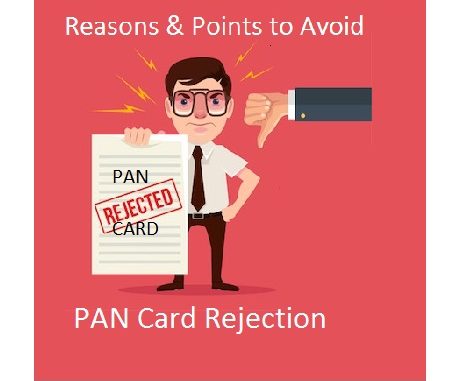 Sometimes PAN card applications get rejected due to incorrect or incomplete submission of the document. There are also times when the details given in the PAN card application form does not go with the documents furnished and thus the application gets rejected. Both individuals as well as combined entities such as organizations, agencies, trust, HUFs, etc. face problems of PAN card application rejection.
Also, the PAN card application rejection due to inconsistency in application form or documents can take place for online and offline PAN card applications. The base of rejection for any application form pursues the similar rules for both online platforms, i.e., NSDL and UTIITSL.
PAN Card Rejection Reasons:
Given below are some reasons why your PAN card application may get rejected and points that one should be wary when filling up the PAN card application form.
Many times, the documents that are delivered to the PAN department as identity or address proofs, are not printed evidently for the authorities to identify these as legitimate proofs. Also, there are times when, the documents that are necessary for identity proof are not provided and some other document is affixed. In these conditions, the application form for PAN is declined by NSDL or UTIITSL wherever the applicant has applied for PAN card.
There are some essential points which if remembered can help you ignore your PAN application rejected. Let us consider each of these points individually.
Try to avoid initials when writing your name in the PAN application form
The most significant rule is not to use initials when filling up your name in the PAN card application form. This one single point has been disturbing the biggest number of PAN applicants. As in a country like India, there are different societies that use initials in place of filling up the surname or the middle name. Now, the thing here is if you have been writing initials in all your identity proofs and have filled up the full name in the PAN card application form, then the two names would not go with and the application will get declined. On the different side, if you write your initials (as in different sustaining documents) then also the PAN application will get rejected as the PAN card database does not acknowledge initials in the name field. The best method to get on with this is to go to the PAN office and get this problem solved as of now; the uncertainty has not been resolute for online applications at NSDL and UTIITSL.
Hindu undivided families need to fill up their complete first, middle and last names. In case of organizations, the name should be written in full and all short forms should be removed.
Specify your PIN code in the PAN application form
Many people have a tendency to avoid filling up pin code when writing their address. As, PAN card is delivered by post, it is actually important for PAN card applicants to specify their PIN code on the application form. If you do not write a proper PIN code, the PAN card application will almost get declined.
Contact numbers should include ISD and STD codes
If you fill landline numbers in the PAN application form, then it should involve the ISD as well as STD codes. In the same way, mobile numbers should also include country codes. This makes it simple for the PAN card providing authorities to get in touch with PAN applicants in case the need takes place.
Read: How to correct PAN Card Mistakes
You should provide legitimate supporting documents
There are three different set of documents that are necessary for issuing PAN card. First is identity proof of applicant, second is address proof for sending out PAN card and third is age proof. The best method to provide the proper documents is to read the list of legitimate documents given on the UTIITSL or NSDL website and then select the ones that are accessible to you. Taking copies of these documents and delivering them within the anticipated time limit will make sure that you do not misplace the application fee that you pay at the time of putting forward the online PAN card application form.
Thus, remembering the above points goes a long way in reducing any possibilities of PAN application being declined. Rather than these, writing in clear block letters and ensuring all compulsory fields are provided also are steps that should be made sure to ignore rejection of PAN card application. For online PAN card application, the system is created in such a way that it makes the user quick for almost all feasible cases of mistakes.
On the other hand, even offline filling of PAN card is not that tough as maximum time, there are representatives who get PAN card issued for individuals as well as other entities.