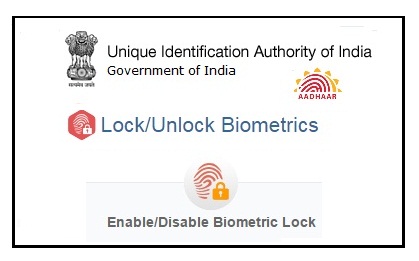 The Aadhar card has surely become one of the most essential document for validating a person's identity. Since it contains record of the cardholder's biometric details, it is important to be cautious about all this information. While enrolling for Aadhar card, applicants are required to provide their fingerprints and iris scan to the government database. This biometric information is used for verification in order to avail benefits and services. Like for example, if you present your Aadhar card as an identity proof to get a new sim card connection, the telecom company would be able to access your data through your fingerprint as it authenticates your identity most quickly and saves a lot of time for KYC verification.
Procedure to lock and unlock biometric data in Aadhar:
There are certain risks involved with your biometric data being recorded in a central database because it may be misused by a wrongful person for unethical purposes of availing benefits and services on your name and identity. But thankfully the Unique Identification Authority of India or UIDAI has come up with a facility for cardholders to lock or unlock their biometric details to ensure safety of their identity. The misuse of an Aadhar card can be simply averted by locking their biometric data which is stored in the UIDAI server. Locking of the biometric data will mean that whenever anyone will try to use your biometric data to validate your identity for any purpose, the biometric data will not be demonstrated as valid and your identity will not be verified. The biometric information can be easily unlocked whenever required to be used for validation and verification purposes by the cardholder and you may lock it when the process is completed. To lock and unlock your biometric information online, follow these simple steps:
Visit UIDAI (uidai.gov.in) & click on "Lock/Unlock Biometrics".

Lock & Unlock Biometrics Aadhar Data

Enter your 12 digits Aadhar number as demonstrated on your card.
Enter the security card which is displayed on the image under the Aadhar number.
Click on "Send OTP"

Lock your Biometrics Page

You will receive a One Time Password on your registered mobile number as a text message.
Enter the One Time Password correctly in the relevant space provided.
Click on "Verify the OTP".
Click on "Enable biometric locking".
Click on "Enable" once you have checked on enable biometric locking.
When you want to turn off the lock, just uncheck "Enable biometric locking" after which you can click on "Disable".
Your biometric information in Aadhar card will be locked or unlocked according to what you have chosen.
After your biometric information has been locked, you could authenticate Aadhar based requests or transactions for information only by the means of One Time Password or OTP that you will receive on your registered mobile number, but along with iris or thumb scan. Although keep in mind that you can only lock or unlock your biometric information in Aadhar card online.