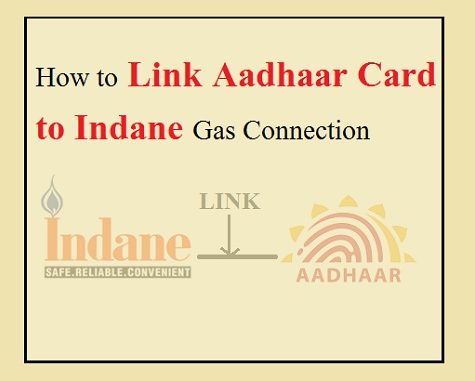 Aadhar Card is a considered as an essential document in India today, as the importance it holds nowadays by being so significant and necessary in certain situations to obtain benefits and services of governmental schemes, that includes a very known scheme of receiving LPG Subsidy, and for a citizen to avail the amount of their LPG subsidy, the Government of India has instructed banks to link their customer's accounts with their Indane LPG connections. There are many ways to link an Indane LPG Connection that includes online method, offline method, IVRS method and SMS method.
Procedure to Link Indane Gas Connection with Aadhar Card Online:
In case you want to link your Indane LPG Gas Connection with your Aadhar card online, kindly follow the steps mentioned below:
Make sure you have registered your mobile number with Indane gas.
To begin the process, visit the official website of UIDAI – uidai.gov.in and go to the seeding portal for residents i.e., https://rasf.uidai.gov.in/.

Fill in the important information correctly like State, District, your Aadhaar location, type of benefit, Enter your mobile number, email address and your 12 digits Aadhaar number.
Now select Scheme Name "IOCL" from the list.
Then select Distributor Name and Consumer Number for the List.

If in case correct consumer name is not appearing, thne check your consumer numner, or you can add another request by click on "Add Another Request" botton. 
Click on "Submit" button.
You will receive a One Time Password or OTP on your registered mobile number and or email address.

Enter the OTP correctly and click on "submit" button
After submitting, you will receive one message "Seeding request added successfully".

Link Indane Gas with Aadhar Card by IVRS Method:
In case you wish to link your Indane Gas connection with Aadhar Card by IVRS method follow the steps given below:
Visit the webpage http://indane.co.in/sms_ivrs.php
Find the number for your state and district.
Dial the number and follow the instructions given by the operator.
Link Indane Gas with Aadhar Card by SMS:
If you choose to link your Indane LPG connection with your Aadhar card by the SMS method, follow the steps given below:
Ensure first that your mobile number is registered with your Indane LPG provider.
And if you have not registered your mobile number then, type "REG < Distributor Telephone Number with STD code without Zero >< Consumer Number > to register your mobile number with Indane.
You should send this message to the correct number for the state you reside in.
Your number would be successfully registered by sending the text message mentioned above.
You may now be able to send the text message to link your Indane LPG connection and Aadhar card.
The text message shall be written as "UID < Aadhar Number >". After sending out this text message, your request to link your Indane LPG connection with your Aadhar card will be successfully submitted and you would receive a notifying text message to inform you the same.
Procedure to Link Indane Gas with Aadhar Card Offline:
If you do not have an access to internet or are not comfortable with any of the methods mentioned above you may go for the usual offline method, kindly follow the steps given below to link your Indane gas and Aadhar card with the offline procedure:
Make sure to bring your Indane LPG blue book and your Aadhar card.
Download LPG Linking Form here and get it printed.
Fill in the form with all the appropriate information and make any corrections if needed, and as you are a consumer of Indane LPG, the name of the LPG company must be entered as IOCL
Enter your LPG ID along with other information.
Visit your local IndaneLPG Distributor's Office and submit the form and assure that you receive your acknowledgement slip from the official in charge.
The authorities would need some time to carry out the verification of Aadhaar Card details before linking your Indane LPG connection to your Aadhar card. You shall receive a notification on your mobile or email when your linkage is successful.