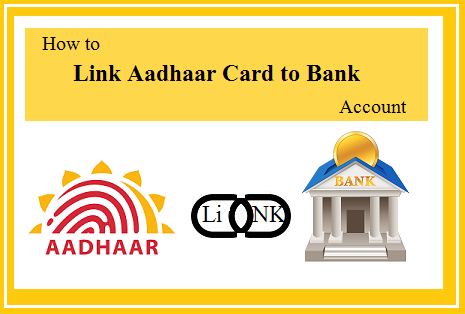 Add/Seed/Link Aadhaar Card to Bank Account:- Aadhar Card has surely made its place secure among the Indian citizens as it is strengthening in terms of its abilities to provide assistance in gaining benefits and availing services from schemes of government. And as the importance of Aadhar card is increasing day by day, the Government of India has decided to Link Aadhaar Card to Bank Account and with other documents to make the process of availing services more convenient and also to reduce all the ill-practices of counterfeit documents being issued on a single name to gain undeserved benefits out of government. Aadhar card has also been made compulsory for many different procedures. The government demands citizens to connect their Aadhar Card link to Bank Account to ensure that all the citizens receive their subsidies and benefits of different schemes by government directly in their bank accounts. Another reason behind this is that it would help the government identify citizens who are actually in need of the subsidies and payments from welfare schemes.
Procedure- How to link Aadhaar with Bank Account:
It is possible to link a bank account with Aadhar card either online or offline. The online process is usually more convenient, effortless and quicker than the offline method. For the online process to link a bank account with an Aadhar Card, follow these steps given below:
Visit the official website of your bank and login to the internet banking service. (In case you don't have the internet banking services activated, you can choose to activate it, otherwise go for the offline procedure.)
You shall find an "Update Aadhar Card Details" or "Aadhar Card Seeding" option after logging in.
Click on the option and you will be redirected to a new page.
You will need to enter your Aadhar card details.
Click on "Submit".
You information will be saved in your bank's database after clicking on submit. The verification process by bank will initiate and upon successful verification, your bank account will be linked with your Aadhar card. You will be notified about the successful linking process by a text message on your registered mobile number or an email on your registered email address. The National Payments Corporation of India or NPCI notifies people about this information over the phone.The online procedure saves a lot of time and is generally advised over the offline process in case you somehow have an access to a computer and internet, also do Aadhar card bank link status check online to ensure successful linking.
Check Aadhaar and Bank Account Linking Status:
To check the Aadhar card bank link status, You need to visit the Official Aadhaar Website (UIDAI).
Here on Home page you will find "Check Aadhaar & Bank Account Linking Status" under "Aadhaar Online Service>Aadhaar Services" Click on that.

After clicking you will be redirected to another page i.e., 'check-aadhaar-linking-status – Resident Portal', here you can Check your Aadhaar and Bank Account Linking Status by entering your 12 Digit UID  "Aadhaar Number" and Security Code.

Now click on "Check Status" button.
Banks Eligible to be linked with Aadhar
Although every process with Aadhar card is progressing immensely but there are certain banks that provide you the facility to link your bank account with your Aadhar card, their names are mentioned below:
Link Aadhar with ICICI Bank
Link Aadhar with Axis Bank
Link Aadhar with State Bank of India
Link Aadhar with HDFC Bank
Link Aadhar with United Bank of India
Link Aadhar with Dena Bank
Link Aadhar with Vijaya Bank
Bank of Maharashtra
Corporate Bank
Andhra Bank
Indian Overseas Bank
Oriental Bank of Commerce
Allahabad Bank
UCO Bank
Indian Bank
Bank of India
Syndicate Bank
Union Bank of India
Canara Bank
Central Bank of India
Citibank
Kotak Mahindra Bank
Bank of Baroda
Punjab National Bank
IDBI Bank