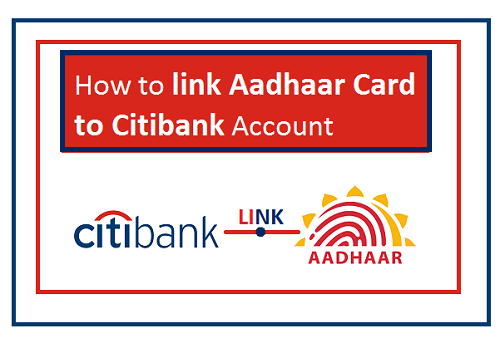 Citi Bank Aadhar Link: Citibank was established in the year 1812 in London. This bank is the consumer division of a financial group named Citigroup. The bank has numerous provisions of services like issuing credit cards, loans etc. Aadhar card is an essential document to evidentially validate one's identity as well as their address. Aadhar consists of 12 digits unique identification number which is issued to Indian Citizens. It has apparently been decided by the Government of India to initiate a practice of linking Aadhaar card to multifarious documents in order to make all governmental schemes simply more accessible, like this linking of bank accounts with Aadhar card which is done to credit the amount easily from benefits and schemes of government without any delay or hassle into the bank accounts of the account holders. The method offered by Citibank to link your bank account with your Aadhar card is the offline mode where you are required to visit the branch bringing all the necessary documents to apply for the linking procedure.
Procedure to link Aadhaar Card to Citibank Account:
The manual procedure to link Citibank Account with Aadhar card by paying a visit to the nearest branch of Citibank along with appropriate suitable documents. Follow the steps given below to carry out the linking procedure:
You must bring your original account passbook, Aadhar print out with a photocopy as well.
Visit a branch of Citibank that is conveniently accessible within your location.
You shall be required to fill an application form for the linking process.
Fill in the form precisely with all the relevant information.
Submit the duly filled in form to the bank official along with a photocopy of your documents.
The bank official may ask for presenting your original documents in order to verify the photocopy and Aadhar Card Verification.
Your application will be accepted by the bank official along with the photocopy of required documents for any verification purposes in future.
There upon your Aadhar details will be updated to your Citibank account after successful verification of your information, and you will receive a notification as a text message on your registered mobile number and an email on your email address, informing you the completed status of your application for request to link your bank account and Aadhar.
The service of linking Citibank account to Aadhaar by internet banking (online mode) or by sending a text message or SMS from registered mobile number or even by visiting an ATM is not yet available to its account holders. The only facility available is the offline mode mentioned above, as it generally adapted by majority of the citizens and involves no hassle or complications.
The government is continuously working on gradually increment the process of linking Aadhar to various welfare schemes and documents of different kinds to make it more of a convenience and advantage to citizens. And linking of bank account is one of the most important linking procedures that government has begun with.
Important Documents Required for Citi Bank Aadhar Link:
These are the necessary documents which shall be required for the execution of the linking process of Aadhar card and bank account.
The Original bank account Passbook as well as a photocopy of the same.
Aadhar card or eAadhar (Aadhar number being the essential requirement).
Linking To Aadhar With Other Banks: 
ICICI Aadhar Link
Axis Bank Aadhaar Link
SBI Aadhar Link
HDFC bank Aadhar Link
UBI Aadhar Link
Dena Bank Aadhar Link
Vijaya Bank Aadhar Link
Bank of Maharashtra Aadhar Link
Corporation Bank Aadhaar Link
Andhra Bank Aadhaar Link
IOB Aadhar Link
Allahabad Bank Aadhaar Link
Oriental bank Aadhar Link
UCO Bank Aadhaar Link
Syndicate Bank Aadhaar Link
Indian Bank Aadhaar Link
Bank of India Aadhar Link
Union Bank of India Aadhar Link
Canara Bank Aadhaar Link
Central Bank of India Aadhar Link