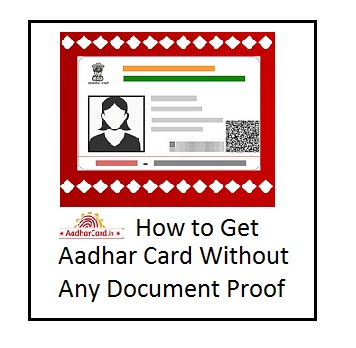 The Aadhar card is meant to become a mode of convenience for all the residents and citizens. It is issued by an authority of government of India known as Unique Identification Authority of India or UIDAI. This document is valid across the whole country and is intended to ease up the process of evidentially validating a person's identity and assisting them to avail certain benefits and services announced by the government of India that they're eligible for, while it is quite an effortless process to apply for enrollment of an Aadhar card, there may be certain conditions when you might not be able to apply for an Aadhar card directly. Whoever wants to enroll for an Aadhar card is required to provide supportive documents that are mentioned on the Aadhar enrollment form.
These documents include a proof of identity, a proof of address along with a proof of date of birth. It is compulsory to submit these documents in order to be suitable to get an Aadhar card but in certain situations one might not have all the documents that are considered as a proof of address and identity. It can also occur that the applicant is a minor below the age of 5 years. When you still want to apply for enrollment of an Aadhar card in such cases, follow this easy procedure.
Process to Apply for Aadhar Card without any Documents:
In case you need guidance and do not have a person as the head of the family then you may approach an introducer. They are appointed by the Registrar and would be registered by UIDAI. Below is a brief information about these registered introducers.
They may be people associated with any NGOs, teachers, doctors, local administrators, elected member of local bodies, those employed by the Registrar's office etc.
They shall be responsible for approving the identity of an applicant's identity and address.
They shall be aware of all the enrollment activities being practiced in their region.
These introducers may be associated with a particular region so you will need to approach an introducer for your local Aadhar office.
The introducers of one registrar can't be considered for participating in another registrar's jurisdiction unless they're also registered with the second registrar.
The details of the introducer would be available at your local Aadhar center.
This facility of an introducer is free of cost to the applicants, and you are not obligated to pay them in any way for introducing yourself.
The introducers are needed to attest your application, it can done be by signing or providing a thumb print of the introducer.
The services of an introducer are available during the working hours of the enrollment centers for Aadhar.
In case you do not find any introducer at an enrollment center nearby, you may ask the supervisor of the center for the appropriate information.
You must keep in mind that using the service of an introducer, are meant to be used only while enrolling for an Aadhar card and you do not have the appropriate supportive documents to submit as a proof of identity and or a proof of address. The facility of an introducer isn't eligible to be used when you already have all the required supportive documents.