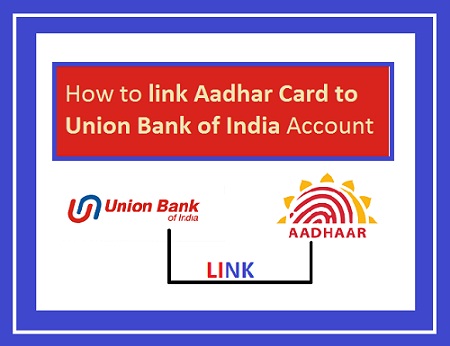 It has been precisely instructed by the Reserve Bank of India (RBI) to banks about beginning the provision of linking bank accounts with Aadhar card. As Aadhar is an individualized identification system that contains all personal information and basic contact details of a citizen, it provides advantageous assistance in our to initiate a practice of linking Aadhar card to multiple documents to make all governmental schemes more convenient and using them a lot easier, as link Aadhaar with Bank Account. The concept behind this procedure to credit the amount from benefits and schemes by government directly into the bank accounts of the cardholders makes such financial transactions smoother. If you have an account in the Union bank of India you can link your account to Aadhar card conveniently. The procedure to link Aadhar Card to Union Bank of India Account can be done online as well as offline. If you already have enabled your internet banking account already then you should surely go for the online procedure, if not then there is offline method always available to account holders.
Offline Procedure for UBI Aadhar Link:
There are cases of account holders who haven't yet enabled their internet banking and aren't interested to go with the online procedure due to some reason to link their bank account with Aadhar card. They have the option to visit a branch of Union Bank of India for linking, follow these steps given below if you want to link your bank account with Aadhar card by visiting a branch of Union Bank of India. If there is any changes in Aadhaar, then you must Fill Aadhar Card Correction Form before linking to bank account.
Be sure to keep your original documents as well as a photocopy of the same attested. Also keep your Union Bank of India passbook accessible.
Visit a Union Bank of India branch.
As you reach the branch you shall ask for an application form.
You will need to fill the form with all correct details.
Submit the application form with the photocopy of documents attached, to the bank official.
You will need to present your original documents card to let the bank official verify the photocopy.
The bank official will sign the application and accept it.
After completion of the process you will receive a notification on your registered mobile number informing you the Union Bank of India Aadhar Link Status of your application.
UBI Aadhar Link Online Procedure:
All the banks have thought out to make this procedure full of ease for the account holders as it has become a necessary practice. To link your Union Bank of India account with your Aadhaar follow the simple steps given below:
Visit the official website of Union Bank of India and go to the Internet banking and register.
If you have already registered and enabled your Internet banking account then login using your 15 digits Account number as shown in the passbook.
Enter your details like Aadhar number, Name as displayed on Aadhar card along with your mobile number, email address.
Click on "Submit" tab.
The linkage will be successful once the documents and information are manually verified by the bank and the applicants shall be notified after the completion of the process.
Your Union Bank of India account will be linked to your Aadhar card after successful execution of this process. You shall receive a notification on your registered mobile number and email address informing you of the successful execution, do check Union Bank of India Aadhar Card Link status to confirm that linking is properly done.
Presently the facility to link Union Bank of India account with an Aadhar card isn't available through the methods of sending a text message or SMS from registered mobile number or by visiting an ATM. Therefore the method above mentioned is practicable and it is convenient and reliable too.
Union Bank of India Aadhar link
Here you can find union bank aadhaar link online where you can connect your aadhar card with your union bank account. This ubiaadhar link online is the easiest method to get register your aadhar number with an account with that you will not experience any difficulty in future. Union Bank of India aadhaar link online save you from time taking process of standing the long queue of banks.
Linking To Aadhar With Other Banks: 
ICICI Aadhar Link
Axis Bank Aadhaar Link
SBI Aadhar Link
HDFC bank Aadhar Link
UBI Aadhar Link
Dena Bank Aadhar Link
Vijaya Bank Aadhar Link
Bank of Maharashtra Aadhar Link
Corporation Bank Aadhaar Link
Andhra Bank Aadhaar Link
IOB Aadhar Link
Allahabad Bank Aadhaar Link
Oriental bank Aadhar Link
UCO Bank Aadhaar Link
Syndicate Bank Aadhaar Link
Indian Bank Aadhaar Link
Bank of India Aadhar Link