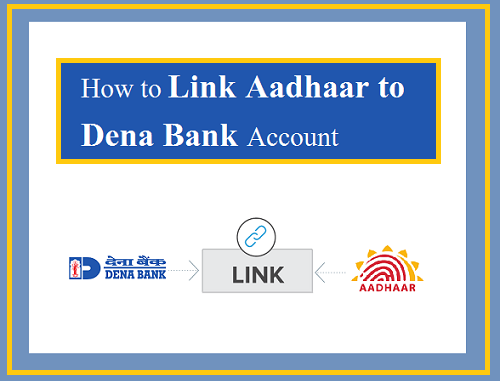 As it has been clearly instructed to banks to avail the account holders with the service of linking bank accounts with Aadhar card by the Reserve Bank of India (RBI), it can be undoubtedly concluded that the Aadhar card is considerably one of the most significant documents as it's highly helpful to avail benefits and services from governmental schemes for the citizens. It has been announced by government of India to initiate linking Aadhar card to different documents in order to make all governmental schemes more convenient, like Link Aadhaar Card to Bank Account Online. The whole intent behind this step is to make the process of crediting the amount from benefits and schemes by government directly into the bank accounts of the cardholders simpler. To link your Dena Bank account with your Aadhar card, you may use the online method, offline method or the SMS service to do so.
How to Link Aadhaar to Dena Bank Account Offline:
To link your Dena Bank account with your Aadhar card through the offline method, you will need to visit any of their branch and follow the steps mentioned below:
Keep your original Aadhar card as well as a photocopy of your Aadhar card along with your Dena Bank passbook ready.
It is advised to write an application to link your Dena bank account with your Aadhar card.
Visit a Dena Bank branch that is nearest to your location and convenient for you to reach.
You might be required to fill an application form at the bank to link your Dena Bank account with your Aadhar card.
The bank officials shall carry out the verification process.
You will be provided with the bottom part of your application form as the acknowledgement document for your application, and you ought to keep it safe for any further requirement.
After execution of this procedure, and successful verification of your information and documents, your Dena Bank account will be linked to your Aadhar card.
You shall receive a notification on your registered mobile number as a text message or SMS, and an email on your registered email address.
Procedure to Link Aadhaar Card to Dena Bank Account through ATM:
To link your Dena Bank account with Aadhar card through an ATM follow these steps:
Visit a Dena Bank ATM nearest to your location.
Inert or Swipe your ATM card in the machine.
Follow the instructions on the screen.
Enter your Aadhar number correctly.
You will get a notification as a text message or SMSon your registered mobile number.
Link Aadhaar Card to Dena Bank Account Online:
To link your Dena Bank account with your Aadhar card, you must have your internet banking available and will need to login to your online account to carry out the procedure.
Visit Dena Bank Official Website for Aadhar Seeding to Dena Bank Account.
On Home page click on "Aadhaar / LPG ID Seeding" under 'Online Services' section.

After clicking you will be redirected to "Dena Bank – Aadhar and LPG Seeding" page, here you will find two option i.e., "Online Request for Aadhar and LPG Seeding" and "Track Your Seeding Status", Here we will click on Online Request for Aadhar Seeding because we are here to link Aadhaar card with Dena bank, if you already have linked your Aadhar, then you can click on second option to track your seeding status online.

Now you will be landed to next page "Application Form : Aadhar & LPG Seeding", here you need to enter required details as Customer ID, Bank Account Number, Name, Mobile Number, Aadhar Number, LPG ID and Oil Marketing Company, if you want to seed LPG connection too, and capta code.

After filling all required details click on "Submit" button.
Procedure for Aadhar Card Link to Dena Bank Account by SMS:
You can also link your Dena Bank account to your Aadhar card by sending a SMS to a number that you can obtain from any of the branches of Dena Bank or inquire by sending an email on denaiconnect@denabank.co.in
Linking To Aadhar With Other Banks:
ICICI Aadhar Link
Axis Bank Aadhaar Link
SBI Aadhar Link
HDFC bank Aadhar Link
UBI Aadhar Link
Vijaya Bank Aadhar Link
Bank of Maharashtra Aadhar Link
Corporation Bank Aadhaar Link
Andhra Bank Aadhaar Link
IOB Aadhar Link
Allahabad Bank Aadhaar Link
Oriental bank Aadhar Link
UCO bank Aadhaar Link