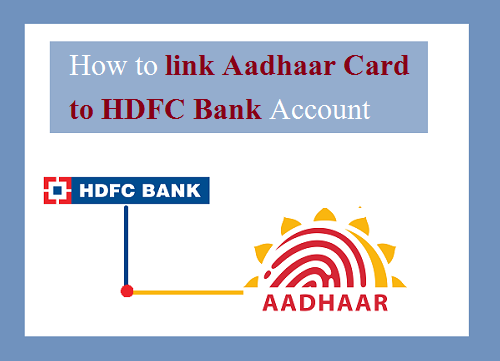 The process to link bank account with Aadhar card can be highly beneficial related to a lot of schemes and services by government. Even HDFC bank customers can now link their accounts to Aadhar card. It has been decided by government of India to introduce a system of linking Aadhar card to various documents to make all governmental schemes more convenient, like linking of bank accounts with Aadhar card.The intent of this procedure is to credit the amount from benefits and schemes by government directly into the bank accounts of the cardholders.In case you have your internet banking enabled you could go for the online method or else you can opt for the offline method.
How to Link Aadhaar with HDFC Bank Account Online:
The process of HDFC Adhar Link  is very effortless and time saving and there's no need to go anywhere if you have access to a computer and internet, as compared to the offline process which requires some time and effort. The online procedure is also quick to be completed, so it is advised to have your internet banking enabled. When you have enabled your internet banking you can easily link your bank account and Aadhar card online by following these steps:
Visit the official website of HDFC and login to your account of internet banking.
Click on "Link Aadhar Card Details" banner.
An online form will open up.
Enter your details to complete the process.
Procedure to Link Aadhaar with HDFC Bank Account Offline:
There is another method of HDFC Aadhar card link through sms or net banking online, but you need to visit a HDFC branch nearest to your location, this method is appropriate for account holders that are not comfortable with the online process. In case you do not have your internet banking enabled, there is no need to frown upon because you can follow the steps given below and simply go for the offline process:
Make sure you keep your bank's passbook accessible for account details, Aadhar card or E-Aadhar printed out with a photocopy of the same.
Download the Aadhaar update application form here.
Fill in the form with relevant information.
Enter your Aadhar number and bank details, check your information and rectify it.
Visit a HDFC Bank Branch nearby to your location.
Submit the completely filled out form to the bank official along with a photocopy of Aadhar card.
Present your original Aadhar card or E-Aadhar card in order to verify the photocopy.
Your application will be accepted by the bank official along with the photocopy of your Aadhar card for any verification purposes in future.
Upon successful verification of your information, your Aadhar card details will be updated to your HDFC bank account and you will receive a notification as a text message on your registered mobile number and an email on your email address, informing you the status of your application.
Linking To Aadhar With Other Banks:
ICICI Aadhar Link
Axis Bank Aadhaar Link
SBI Aadhar Link
UBI Aadhar Link
Dena Bank Aadhar Link
Vijaya Bank Aadhar Link
Bank of Maharashtra Aadhar Link
Corporation Bank Aadhaar Link
Andhra Bank Aadhaar Link
IOB Aadhar Link
Allahabad Bank Aadhaar Link
Oriental bank Aadhar Link
UCO bank Aadhaar Link