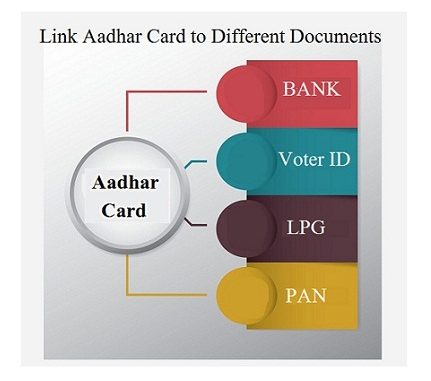 The Government of India has made it mandatory for all the citizens to link their Aadhar card with certain documents. This is done in order to make sure that the benefits of government are availed by eligible citizens. The procedure to link Aadhar card with other documents is full of ease and requires a very less time. The process to link other documents to Aadhar card can be done online as well as offline.
Documents that can be linked with Aadhar:
There are certain documents and schemes of government that are suitable to be linked to Aadhar Card, and they are all mentioned below:
Bank Account
Pensioner's Account
Scholarship Account
Voter ID card
PAN card
Ration Card
LPG Connection
Bank Account
If you desire to avail benefits of government schemes directly to your bank account, you need to link your Aadhar card with your bank account. It is a very simple process to be done online using the facility of net banking of your bank or you also have an option to visit any branch of your bank and apply for a request to link your account to your Aadhar card.
Voter ID card
To restrain from issuing of counterfeit Voter ID cards, the Government of India took a decision to link Voter ID card to Aadhar card. All the Indian citizens can link their Voter ID to their Aadhar number by a lot of ways. The process to link is quite simple to be done online, by mobile application, by text messaging or through the call center.
LPG Connection
It has now be made compulsory by the Central Government of India to link voter ID card with Aadhar card to avail certain benefits including subsidy purposes. Citizens can link LPG connection to Aadhar Card online on the Aadhar seeding website, by any of the methods among IVRS, SMS, and call center or by post.You must assure that you link your UID number to your bank account before linking your gas connection to your Aadhar card.
PAN Card
To prevent corruption and fraud practices in the country, government of India needs citizens to link Aadhaar card with PAN card. The practice of linking retains benefits of its own like for people who link their cards are not required to send ITR. The process of linking can be done using the e-filling portal.
Ration Card
In order to make sure that a citizen does not possess more than one ration card, and refrain people from misusing the benefits of a ration card, the government requires people to link their ration card to Aadhar. The ration card can also be linked with Aadhar card online as well as offline. Visiting the Aadhar seeding website is needed to apply for linking ration card with Aadhar card online.
Pension Account
This linking comes with its own multiple benefits, such as the Digital JeevanPraman Certificate, by which pensioners can renew their pension account every year, without the need to visit the bank physically. And the pension amount will be transferred to their bank account linked to Aadhar card and in case of the pensioner's death, it would be transferred to the nominee with ease if the information of that person is present in the department database.
Other than the documents and schemes mentioned above, the government is gradually increment the process of linking Aadhar card to other welfare schemes and documents of different kinds to make Aadhar card more of a convenience and advantage to citizens.