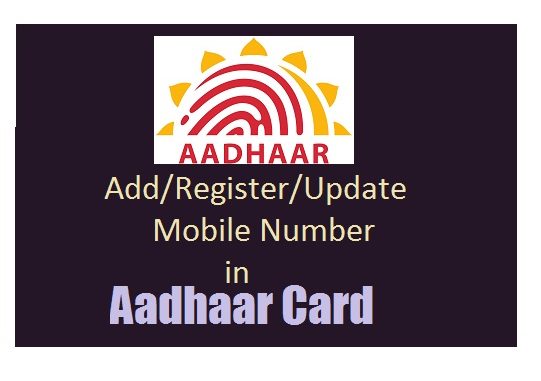 It is very important to provide all your details like your Email Address and mobile number when applying for an Aadhar card to ensure successful acceptance of your application. And in case if you are not able to provide any of these details due to some reason, the authorities won't be able to deliver your Aadhar card. Hence assurance of providing your correct details while enrolling for an Aadhar card is essential in order to secure your chances to get your Aadhar card. If you have lost your aadhar card, then you can also apply for duplicate aadhar card online.
Procedure to Update Mobile Number in Aadhar Card:
Generally there are 2 Methods to Update or Add Mobile Number in Aadhar Card:
Offline Process: Aadhar Card Mobile Number Update
Online Process: Change/Update Mobile Number in Aadhar Card
Offline Process: Add New Mobile Number in Aadhar Card by Post
The very first step to add your mobile number in your Aadhar card online is to visit the official website of UIDAI and download the application form for correction and getting a print out of that document. It is very essential to provide all the appropriate information that is accurate in nature and is required in the form for verification of your identity for carrying out the correction process. This information includes all your personal and contact details like your name, gender, date of birth, correct address, mobile number and email address. You will be able to see a "Field for Update/Correction" on the top of your form, where you must mark a 'tick' on the field named as "Mobile number". Then you will be required to enter your 12 digits unique identification number (UID) which is commonly known as Aadhar number, in the relevant space given.
In the section of your form where you are required to mention your mobile number, carefully enter your correct mobile number that you desire to link to your Aadhar card. It is also advised to safely and carefully attach a photocopy of the proof of identity document and assure that your Aadhar number is mentioned clearly in the same document. After entering all the important details in the form, you will be needed to sign the form or in another case, provide your thumb print to confirm the authenticity of the documents along with the application for correction in your Aadhar card. This will ensure the safety of your identity as your signature or thumbprint is your individualized residential validation, which negates the misuse of any of your information and doesn't let anyone other than the actual cardholder make any changes in the Aadhar card. After following up with this whole procedure, the most important and finalizing step is to submit your application by sending it to UIDAI through post on either of the addresses given below:
Address 1: UIDAI Box number 10, Chhindwara, Madhya Pradesh – 480001, India.

Address 2: UIDAI Box number 99, Banjara Hills, Hyderabad – 500034, India.
After you have sent out the application form for correction to UIDAI, you are expected to wait a few days as the authorities will definitely require some time to cross verify your identity and your documents along with your application for correction. And when the procedure of verification is carried out, a confirmation message will be sent out to you informing that your mobile number has been successfully registered and linked to your Aadhar card. If you want to change or correct any information in aadhar card, then here is the guide to fill aadhar card correction form online.
Online Process: Request Change/Update Mobile Number in Aadhar Card
Looking to change you mobile no. in Aadhaar Card then here is step by step process to Update or Change Mobile Number to Aadhar
First you need to visit Aadhar Official Site http://uidai.gov.in/
On Home Page you will find "Aadhaar Online Services" Section, Where you will see "Aadhaar Services" under which we have "Verify Email/Mobile Number" Click on that link
Now you will be redirected to 'Verify Email/Mobile – Resident Portal', where you can verify you registered Mobile No., But here we are looking to add new number.
Here on right side top of the page you will find link with "Know how to Register Mobile with Aadhaar", Click their.
Clicking on that link you will not redirected to 'Aadhaar Self Service Update Portal', on this page below/bottom you will find two options"
"To submit your update/correction request online please -> CLICK HERE"
"To submit your update/correction request by post please -> CLICK HERE to download correction form"
Click for Online Process, one new window will open as shown below

Aadhar card update form

Here Enter your Aadhaar number and type "Text Verification Code (Required)".
Now Click on "Send OTP" button.
You will receive OTP on your existing Mobile No. , Enter OTP Code and click Login
Now New page will open asking 'Data Update Request'
Under "Select field(s) to update", Click on "Mobile Number"

Aadhar card request select mobile to update

Now Enter you New Mobile Number here which you want to update, then click "Submit and Update"
One message will display as "Your request has been successfully submitted on Date XXXX. You update Request Number (URN) is XXXX"

Download URN update request in pdf

Write down URN number for future use or take print out to check status of your Mobile No. Update
Hence your Aadhar Card Mobile No. Update Successfully.