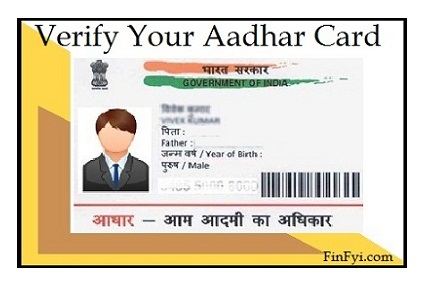 Aadhar card is an identity card which has a unique identification number that contains demographic and biometric details of a citizen. It is a very advantageous card that serves various purposes by being a validated proof of identity, proof of address and date of birth of a citizen.It negates the need to carry multiple documents when you want to gain benefits of a government scheme or service. It is issued by an organization of government known as the Unique Identification Authority of India. Those who apply for an Aadhar card are assigned with a 12 digits unique identification number or Aadhar number by UIDAI.
What is Aadhar Card Verification?
The Aadhaar Card Verification is the process to verify the existence of your Aadhar card, it means you can check whether your Aadhar card has been issued or not, after you have properly enrolled for an Aadhar card. You can also determine if your application has been successfully accepted or not. The procedure can be completed by submitting your 12 digits unique identification number, on the official website of UIDAI. The UIDAI is a very responsible authority which, apart from issuing Aadhar card to the citizens, also maintains the details of each and every Aadhar card holder in India. And it is quite effortless for a cardholder to verify their Aadhar card after registering and being assigned with an Aadhar number.
What is the need to verify your Aadhar card?
It is a very essential step to verify your Aadhar card to assure the issuance of your Aadhar number and check if it has become valid for further usage in order to avail benefits and services announced by the government of India. It is also convenient for a citizen to update any personal information whilst verifying their Aadhar card. The cardholder's gender, age group and state would be displayedat the time of verification of Aadhar card. UIDAI can be immediately contacted by the cardholder in case of any mistake or error in the information is seen. The cardholder can contact the UIDAI by either calling them on their toll free number or sending an Email.
Procedure to Verify your Aadhar Card Online:
The UIDAI has put a lot of thought and made the process to verify you Aadhar card online quite effortless and convenient on their official website. It is significant that you have access to your Aadhar number for moving ahead in the process to verify your Aadhar card.Refer to this complete list of steps of the process to verify your Aadhar card online:
Visit the official website of UIDAI – uidai.gov.in
Under "Aadhaar Services" Section.
Then select the option of "Verify Aadhaar Number" shown on the page.
After clicking on the link you will be redirected to the Resident Portal of UIDAI or the Aadhar Kiosk

Aadhar Card Verification to Verify Your Aadhaar Online

Enter your 12 digit unique identification "Aadhaar Number" in the space provided.
After you have entered you Aadhar number, enter the security code as given there.
Click on the "Verify" button.
The page will now display details of your Aadhar card if the Aadhar number has been assigned to you after you submit the form online. It would also state if you have been issued with an Aadhar card.