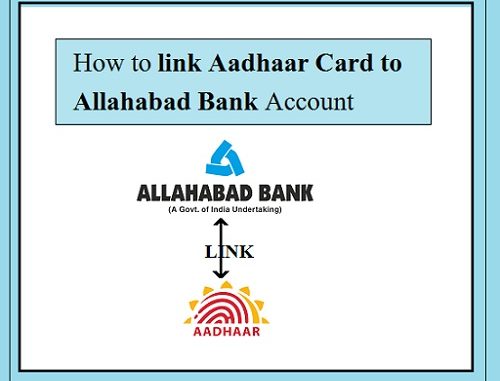 Aadhar Card is an individualized identity system that contains demographic and biometric details of a citizen, making it the most secure system of validation for an individual's identity and address, and therefore the Government of India has decided to make Aadhar card compulsory to be linked with other documents to support evidential validation regarding identity and address It negates the possibility of any kind of fraud and ensures that the benefits and services are availed by the appropriate and eligible citizen. The government wants citizens to link Aadhar Number to Bank Account Online to assure that all the citizens obtain their subsidies and benefits of different governmental schemes directly in their bank accounts. The process to link an Allahabad bank account with Aadhar card is possible by the offline method which is visiting any branch of Allahabad bank and carrying out the procedure as given below.
Procedure to Link Aadhaar with Allahabad Bank Account Offline by visiting Branch Office:
The procedure to link your Allahabad bank account with Aadhar card which is considered as the most trusted method is to visit a branch of the bank physically and accomplish the process. This method is always preferred by citizens as it is the conventionally reliable method to be trusted by the citizens. So in order to link your Allahabad Bank account with your Aadhar card, follow the steps given below:
Be sure to bring you original Aadhar card and a photocopy, along with your original bank passbook and its photocopy with you.
You can write an application to request for linking of your Allahabad Bank account with your Aadhar card, or click here to download Allahabad Bank Aadhaar Linking Form.
Visit an Allahabad bank branch that is conveniently nearby to your location.
When you reach the branch of Allahabad bank, you would be provided with an application form to link your Allahabad Bank account with your Aadhar card.
Fill in the form completely with relevant information.
Submit it to the bank officials.
The Allahabad bank officials might see your original documents for verification of the photocopies and will return original documents after completion of the verification process.
The bank officials would give you the bottom part of your application form as an acknowledgement document.
The bank will commence with its verification process of Aadhar card and other information.
When the verification of your documents and information provided is successful, your Allahabad bank account will be linked to your Aadhar card.
You shall be informed from a text message on your registered mobile number or an email on your provided email address informing you about the successful linking of your bank account with your Aadhar card.
Online Procedure for Allahabad Bank Aadhaar Link or Via SMS:
The facility of linking an Allahabad bank account with Aadhar card online through internet banking or by sending a text message or SMS isn't available to the accountholder's yet and thus visiting a branch of Allahabad bank and completing all the procedure as mentioned above is the only way to link your Allahabad bank account to your Aadhar card.
Linking To Aadhar With Other Banks:
ICICI Aadhar Link
Axis Bank Aadhaar Link
SBI Aadhar Link
HDFC bank Aadhar Link
UBI Aadhar Link
Dena Bank Aadhar Link
Vijaya Bank Aadhar Link
Bank of Maharashtra Aadhar Link
Corporation Bank Aadhaar Link
Andhra Bank Aadhaar Link
IOB Aadhar Link
Oriental bank Aadhar Link
UCO bank Aadhaar Link