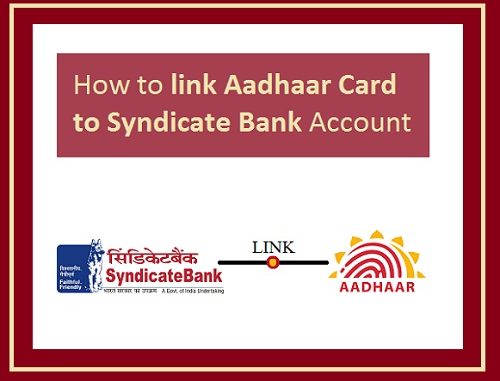 The Syndicate Bank was established in 1925 in Udupi, Karnataka. Since then it has been reaching heights of achievements in becoming one of the most trusted banks of India. They have branches all over India and offers a wide range of financial services. Aadhar Card is an individualized identity program that involves a person's demographic and biometric details, making it the safest validation system for an individual's identity and address, and hence the government has decided to link Aadhaar Card to EPF Account, Income Tax Return, Voter ID Card, LPG Gas Connection and other documents. The account holders of Syndicate Bank can link their bank account and Aadhar card by one of the methods from online, offline, by SMS or directly from ATM.
Procedure for Syndicate Bank Aadhaar Link Online:
In case you have internet banking enabled then and you may easily be able to link your bank account with your Aadhar card online, just follow these simple steps given below:
Visit the official website of Syndicate bank.
Login to the internet banking using your User ID and Password.
Click on "Update Aadhar Number" tab under Customer Services.
Enter your 12 digits Aadhar Number.
Click on "Submit" button.
Your Aadhar card would be linked with your bank account after completion of this procedure. You shall be notified by a text message or SMS on your registered mobile number or an email on your registered email address.
Offline procedure for Syndicate Bank Aadhaar Link:
If you do not have the option of carrying out this procedure online through internet banking, you could do it manually by paying a visit to the nearest branch of Syndicate bank along with appropriate supportive documents. Follow the steps given below to carry out the linking procedure:
Make sure to keep your original bank account passbook, Aadhar card or E-Aadhar printed out with a photocopy of the same.
Visit a branch of Syndicate bank nearby to your location.
You shall be required to fill an application form for the linking process or Download Syndicate Bank Aadhaar Enrolment Form here.
Fill in the form correctly with all the appropriate information.
Submit the completely filled out form to the bank official along with a photocopy of Aadhar card.
You could be asked to show your original Aadhar card or E-Aadhar card print out to the bank official in order to verify the photocopy.
Your application will be accepted by the bank official along with the photocopy of your Aadhar card for any further verification purposes.
After verification of your information, you will receive a notification as a text message on your registered mobile number and an email on your email address, informing you the completion of your application.
Procedure to Link Aadhaar with Syndicate Bank Account Via SMS:
The accountholders of Syndicate bank are provided with an option of linking their bank accounts with Aadhar card by sending a simple SMS, follow these steps to do so:
Type a text message/SMS – "ADR <Customer-ID> <CASA Acct-No> <Aadhar No>" and send it to 09241442255.
You shall receive an acknowledgement receipt as a SMS.
The bank will execute the process and you will be notified by SMS once your bank account and Aadhar card gets linked.
Procedure to link Aadhar Card to Syndicate Bank Account through ATM:
You could carry out the procedure of linking from an ATM, which is nearby to your location and conveniently accessible to you, follow these easy steps given below to link your Syndicate bank account with your Aadhar card:
Visit Syndicate ATM nearby to your location.
Insert or Swipe the ATM card.
Enter your 4 digits ATM Pin (Do not disclosed your Pin Code with any one).
Go to menu "Other Services".
Select on "Aadhar Update" option.
Enter Aadhar number and select "Confirm".
Re-Enter the Aadhar number.
You would receive a receipt of your linking request informing you about the successful linking of your bank account and Aadhar card.
Linking To Aadhar With Other Banks:
ICICI Aadhar Link
Axis Bank Aadhaar Link
SBI Aadhar Link
HDFC bank Aadhar Link
UBI Aadhar Link
Dena Bank Aadhar Link
Vijaya Bank Aadhar Link
Bank of Maharashtra Aadhar Link
Corporation Bank Aadhaar Link
Andhra Bank Aadhaar Link
IOB Aadhar Link
Allahabad Bank Aadhaar Link
Oriental bank Aadhar Link
UCO Bank Aadhaar Link