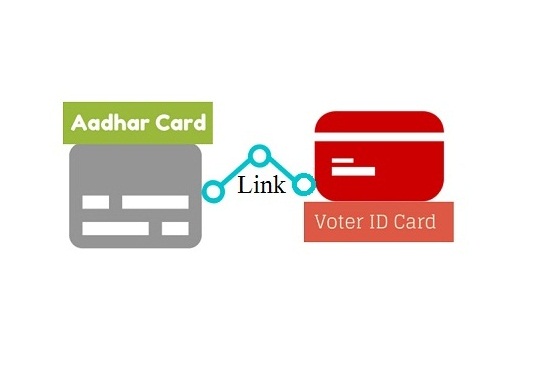 All Indian citizens above the age of 18 years are eligible to have the right to vote in the elections. It is only allowed for a person to vote once in an election, yet some individuals corrupt this practice and have more than one voter ID card issued on the name of a single person. To refrain from this ill-practice taking place, the Government of India has taken a step of linking a person's voter ID card (known as EPIC) to their Aadhar card.
Aadhar card is a unique identification method which is issued to a person and is valid throughout the life span of that person. An applicant is required to submit their biometric information that consists of their fingerprints and iris scans, and hence concluded that only one Aadhar card can be issued for a person.Hence, to link the Voter ID card with Aadhar card is a striking method to restrain this practice of issuing counterfeit voter ID cards in a single name.
Procedure to Link Aadhaar to Voter ID Card:
The process to link a voter ID card with an Aadhar card is known as seeding and is executed through the NVSP portal.  The process to seed an Aadhar card with a voter ID or EPIC can be done through multiple ways, follow the steps mentioned below accordingly:
Linking Voter ID with Aadhar Card Via NVSP Portal Online:
To seed or link your Voter ID or EPIC with Aadhar card through the NVSP Portal, follow the steps given below:
Visit the official website of NVSP run by Indian Government and find "Search Your Name in Electoral Roll" and Press "Click Here" button.

Now you will be redirected to new site National Electoral Search Page, here you have to search your details by entering some details.
Enter your personal details like Name, Age, Father's/Husband's name, State, District, Assembly Constituency or you can Locate on Map.

Click on the "Search" button. You will be able to see your details and if the entered information matches with the information in government database.
Click on "Feed Your Aadhaar Number" tab on the left side of the screen.

A new window will pop up where you will need to enter Name in Aadhaar, EPIC Number, Aadhaar Number and your registered mobile number or Email ID as on your Aadhar card.
Click on "Submit" after entering all the correct information.
You will see a notification letting you know that your application to link your Voter ID or EPIC to Aadhar card has been successfully registered.
Also read: How to Link Aadhaar Card to Caste Certificate
Linking Link Aadhaar to EPIC Card (Voter Card) through SMS:
You could also link your voter ID with you Aadhar card by sending an SMS, as mentioned below:
Send the following SMS to 166 or 51969:
ECILINK < EPIC Number >< Aadhar Number >
For instance, if your EPIC number is 123456789 and your Aadhar number is ABCD12345678, the SMS would be ECILINK 123456789 ABCD12345678.
Linking Link Aadhaar to Voter ID through Phone:
The process to link voter ID card to Aadhar can also be done by calling the call centers that are specially set up for this purpose.
Simply call on 1950 on weekdays between 10:00 am and 5:00 pm and convey your Aadhar card and Voter ID information and link them.
Linking Voter ID to Aadhar Card through Booth Level Officers:
It is also possible to link your Voter ID or EPIC to Aadhar card by submitting an application to your respective Booth Level Officer (BLO).
The Booth Level Officer or BLO will conduct a door to door survey, to record your information.
This information will now be sent for processing.
Also, E-Seva centers, special camps and Voter Facilitation centers carry out this activity. You can inquire at your local voter's office for the details and information on when these special camps would be organized in your area.
Check Status of your Aadhaar-Voter ID Linking:
After submitting all the details through any of the methods mentioned above, your application shall be processed by the authorities. To check the status of your application, you need to visit the official website of NVSP and enter the information in the "Seeding through NVSP Portal" section. On successful completion of this process, you will receive a notification informing that your request has been registered and is under process.