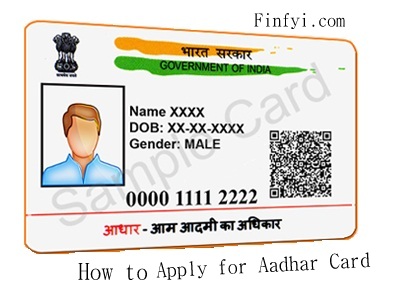 After the assurance of your eligibility to acquire an Aadhar card, the oncoming step is to apply aadhar card online after which it could be a somewhat time consuming process. The aadhar card registration is absolutely volitional and it doesn't make you incompetent to any benefits or services if you are suitable for it. The important thing to keep in mind is that to attain an Aadhar card it is essential for the applicant to be able to visit the enrollment center, submit the appropriate documents and biometric data. The complete process of applying for new Aadhar card begins from the applicant who books an appointment to visit the Aadhar center to submit all the adequate information, verification of the information, then to receiving the number, and then in actuality getting the Aadhar card. The registration process goes as follow:
Procedure to Apply for Aadhar Card
The foremost step to apply for an Aadhar card, after ensuring that all the appropriate documents that are required are present, would be to book an appointment and visiting the enrollment center thereafter.Below is the approach to do it:
The initial step is to look for an enrollment center nearby.
Booking an appointment for the nearest enrollment center found.
Booking an appointment isn't mandatory, although it is advised in order to avoid wastage of time as visiting the enrollment center without an appointment might require standing and waiting in the queue.
It is also advisable to reach the enrollment center before time to avoid any delays or missing the appointment.
After you reach the enrollment center, the process will be carried out as follows:
Firstly, you'll be required to fill out the enrollment form. This step can be done online as well.
After filling it up, submit the form along with theapplicable documents. These documents will be basically an existing proof of identity and a proof of address.
When your documents with your enrollment form will be accepted, you will be asked to submit your biometric data which would involve an impression of your fingerprints and iris.
A photograph will also be captured on the move during the process.
After gathering of all the information, an acknowledgement slip of the enrollment is ought to be provided, the slip will include your 14 digits enrollment number which would suffice to facilitate in future to check the status of your application.
Certain states, districts in some states, and union territories in India are practicing the enrollment of Aadhar by the Registrar General of India which nullifies the need of individual enrollment. The locations are:
Andaman and Nicobar Island
Arunachal Pradesh
Assam
Chikkabalapur
Dadar and Nagar Haveli
Davangere
Gadag
Haveri
Jammu and Kashmir
Kodagu
Lakshadweep
Meghalaya
Mizoram
Odisha
Rural Bangalore
Tamil Nadu
Udupi
Uttar Kannada
West Bengal
Check Your Aadhaar Enrollment Status
In case you need to check your enrollment status, it's as simple as visiting the UIDAI website and entering your enrollment number provided in the acknowledgement slip, and you'll be able to comprehend if an Aadharnumber is assigned to you.
Check Your Aadhar Status via SMS
It is feasible to receive your Aadhar number by means of SMS, for this you would be required to visit the UIDAI website, enter your enrollment number, details of your appointment (date and time) and your registered contact number.
Take E-Aadhar Letter
After all the documents along with biometric data have been submitted, it will take some time for the whole process to work out until you receive the Aadhar card. It might take anywhere between 90 days to 3 months for the Aadhar card to be sent out to you. The Aadhar card is dispatched through Indian Post Services and hence may take up long time depending upon the number of enrollments for Aadhar.
Nonetheless, if there is some need for the Aadhar card and you haven't received the original Aadhar card yet, there is an easy option available to access the features of Aadhar card by downloading the eAadhar. Below is the process to download the eAadhar:
Visit the UIDAI website and go to the eAadhar section.
There will be a form available where you can enter either your Aadhar number or the enrollment number.
In case you are entering the enrollment number:
Enter the enrollment number.
Enter the time and date of your appointment as mentioned on the acknowledgement slip.
Enter your full name.
Enter your area's pin code.
Enter your registered mobile number.
In case you are entering the Aadhar number:
Enter the Aadhar number.
Enter your full name.
Enter your area's pin code.
Enter your registered mobile number.
After entering all the details, you could generate the One Time Password or the OTP, after which you will be able to download the colored version of your eAadhar Letter which is equally valid as the Aadhar card.
What to do if you didn't receive Aadhar Card OTP?
Your mobile number serves as an evident security tool for various online services like online banking, ticket bookingas well as online Aadhar services. The way your mobile number works as a security asset is by the technique of one time password where a unique password is generated and is sent through the means of text messaging or SMS whenever you want to carry out a transaction or a privacy concerned activity, the OTP is generally valid for a limited period of time, and is mainly sent on a registered mobile number. Although it may occur sometimes that you do not receive the OTP, like whenever you make changes in any information in your Aadhar card or while downloading a duplicate, you might not receive the OTP due to some issue. Following are some tips to deal with this concern:
Why you might not have received Aadhar Card OTP
Because of any error, your mobile number might not have been registered.
Problems in the network.
The sim might be blocked.
Low memory in your phone storage to receive the SMS.
How to maneuver these problems
As the reason behind not receiving the OTP might be any of the above mentioned, we will discuss each issue separately with its proper explanation.
Unregistered mobile number
It is very important to give your correct mobile number to the authorities while enrolling, defaulting to do it will emerge this issue in future.
Blocked Sim
In case your mobile number has been inactive for more than two months, chances are that your carrier provider might have blocked it. To rectify, you can contact the service provider and get your number unblocked.
Problems in network
If your residence is in a locality with poor availability of network coverage, the OTP might not be received, assurance of good network coverage is reasoned while doing any work related with receiving an OTP.
Low memory in Phone Storage to receive incoming message
If there is no adequate memory in your mobile phone, you won't receive the OTP. Reassure that your phone has enough memory before receiving the OTP to avoid this issue.
Assuring the acceptance of your application
It may happen in some cases where the application might get rejected. The reasons might be submission of improper documents or an enrollment with your name done already. In case your application shows rejected you need to reapply with proper documents. The process to reapply after a rejected application is as same as the process for booking an appointment in the beginning and repeating the entire registration procedure.
After appling online aadhar card  and receiving your Aadhar card, it is undisputedly significant to check your recorded details and see if every information on the card is presented correctly. And in case you find disparity in any information, you can visit the website and update the information online.