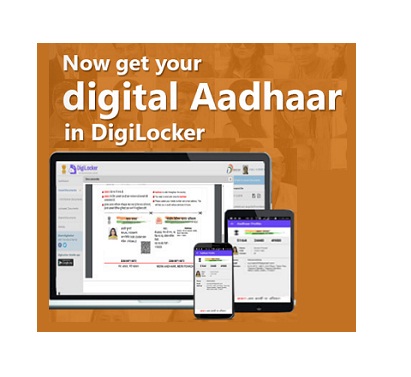 The Aadhar card is an individualized identification system that contains all personal information and basic contact details of a citizen, it is very helpful in availing benefits and services announced by government of India.It has been decided by government of India to introduce a system of linking Aadhar card to various documents to make all governmental schemes more convenient. The benefits of linking your digital locker with your Aadhar card are countless. Like for instance when you want to apply for a PAN card, you are required to attach a minimum of two proofs of identity. And if you already have maintained your documents in the digital locker, you will be able to send the link and make the process a lot easier and this method is considerably securer. The necessary document here to make this process work is the Aadhaar card, otherwise you may not be able to apply for the digital locker process online, if not then click here to apply for Aadhaar first.
Procedure to Link Digital Locker with Aadhaar:
The process of linking a digital locket to Aadhar card is very quick and effortless. It can only be done online as the digital locker is an online facility. To link your digital locker with your Aadhar card, follow the step by step procedure specified below:
Visit the official website of Digital Locker here and click "Sign in" button.

There are two methods to sign in, First Sign in to you account with login details and Second is Sign in with Aadhaar.
In case you already have a digital locker account, then enter the username and password.
If you are new to the digital locker site then you can go for second option below and enter your Aadhaar Number and One Time Password (OTP) that will be sent on your registered mobile number as a text message.
Enter OTP Code and Click on the "Verify" tab.
Now you have successfully landed on Digital Locker Dashboard.
Here you will find the option to "Link with Aadhaar", near to My Profile as shown in image below.

If you already linked your Aadhaar Card with Digilocker, but if your Digilocker profile doesn't match your latest updated Aadhaar Card Data, then you can update it to latest, for that you need to click on "Update DigiLocker Profile to latest Aadhaar Data"
After clicking, an OTP will sent to your Aadhaat registered mobile number and you will be asked to "Enter OTP received on your mobile" and click on "Verify OTP".

If you don't received OTP in 10 minutes,then generate another OTP. Also here on the page you find find note that clearly informs that "You cannot make any changes to original Aadhaar data from DigiLocker. For doing that, you will need to contact UIDAI."
After verifying OTP, one pop will appears with message that "Congratulations! Your DigiLocker is linked with Aadhaar", else you can see update on your home dashboard, also your see digital Aadhaar by clicking "here", as shown below image.

On DigiLocker,  you can upload your documents & certificates, you can also eSign them, and access them online whenever required.
Eligibility to Apply for DigiLocker:
Any citizen or resident of India along with Non Resident Indians and Foreigners residing in India, are suitably eligible to apply for a Digital Locker. The list of states whose residents are eligible to get a digital locker is given below:
Andhra Pradesh
Arunachal Pradesh
Assam
Bihar
Goa
Gujarat
Haryana
Himachal Pradesh
Jammu and Kashmir
Jharkhand
Karnataka
Kerala
Madhya Pradesh
Maharashtra
Manipur
Meghalaya
Mizoram
Nagaland
Orissa
Punjab
Rajasthan
Sikkim
Tamil Nadu
Telangana
Tripura
Uttar Pradesh
Uttarakhand
West Bengal
This process is comparably safe and secure, and there are various benefits you can avail by linking your Digital Aadhaar to digital locker. After completing this process successfully you may access your digital locker and your e-documents whenever you are required to, and the access to this account is limited to the account holder making it safe and secure to maintain your documents for convenience.