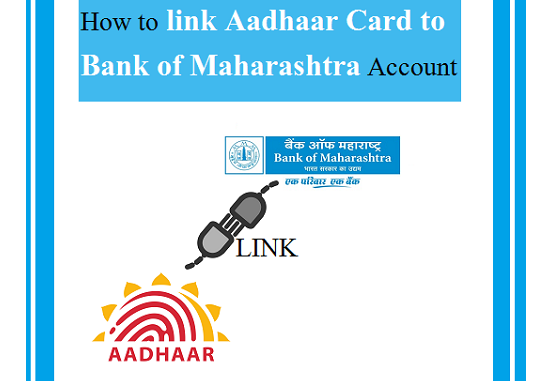 An Aadhar card is an essential document to evidentially validate one's identity as well as their address. Aadhar card consists of a 12 digits unique identification number which is provided to the citizens of India by the Unique Identification Authority of India (UIDAI). The Government has announced a program regarding seeding  of Aadhar card to various documents to make all schemes by government more convenient, involving seeding  Aadhar Card to Bank Account Online. Therefore it may be considered that an Aadhar card has an extremely high level of significance nowadays in our country. So to link your account Bank of Maharashtra with your Aadhar card you may go ahead with the online method, offline method or send a SMS.
Important Documents Required to link Aadhaar Card to Bank of Maharashtra Account:
There are certain documents that are required for the implementation of the linking process of Aadhar card and bank account.
The Original as well as a photocopy of the bank account Passbook.
Aadhar card or E-Aadhar (Aadhar number being the essential requirement).
Offline Procedure to Link Aadhar with Bank of Maharashtra Account:
The offline method of linking procedure is usually the most trusted way considered by the majority of account holders. This method is generally preferred more by account holders as it is the reliable and conventional method to be used by the citizens. If you opt for this method then follow the steps mentioned below to link your Bank of Maharashtra account with Aadhar card:
You must bring your original bank passbook as well as a photocopy along with your Aadhar card as well as its photocopy,
A written application for request to link your Bank of Maharashtra account with your Aadhar card should be brought too.
Visit Bank of Maharashtra's branch that is nearest to your home or office.
When you will be at the branch, you will have to ask for an application form to link your Bank of Maharashtra account to your Aadhar card.
Fill in this form with information that is relevant.
Submit it along to the bank officials.
The officials of Bank of Maharashtra should ask for your original documents for verifying the photocopies and will give the original documents back after doing the verification.
They will give you the bottom part of your application form as the acknowledgement receipt which you should keep safe in case of any requirement in future.
After all this procedure, the Bank of Maharashtra will begin with its verification of your Aadhar card.
After the whole verification of your documents and information mentioned is done, your Aadhar card will be successfully linked to your Bank of Maharashtra account.
You should be receiving a notification as a text message on your registered mobile number or an email on your provided email address as the process to link your bank account with Aadhar card is successful.
Online procedure to Link Bank of Maharashtra account with Aadhar Card:
Unluckily the Bank of Maharashtra is not providing the facility to link the bank account with Aadhar card online yet, and it doesn't offer the service of linkage by a text message or SMS either. But it does not mean that it is not practicable to link a Bank of Maharashtra account with Aadhar card by the offline method which is to visit the branch of Bank of Maharashtra nearby to your location.
Linking To Aadhar With Other Banks:
ICICI Aadhar Link
Axis Bank Aadhaar Link
SBI Aadhar Link
HDFC bank Aadhar Link
UBI Aadhar Link
Dena Bank Aadhar Link
Vijaya Bank Aadhar Link
Corporation Bank Aadhaar Link
Andhra Bank Aadhaar Link
IOB Aadhar Link
Allahabad Bank Aadhaar Link
Oriental bank Aadhar Link
UCO bank Aadhaar Link