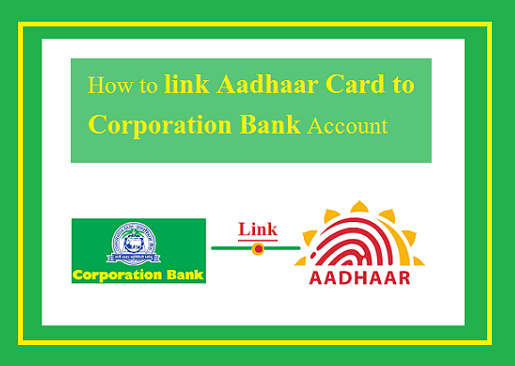 The Unique Identification Authority of India or UIDAI issues Aadhar card which consists of a 12 digits Aadhar number that serves the purpose of a proof of identity and a proof of address which can be presented as an evident and validated Identity document in India. The Government of India has come up with a plan to link various documents as link Ration Card with Aadhaar Card, LPG, Bank etc to make all schemes by government more convenient and effortless, like the linkage of bank accounts with Aadhar card. The concept of this procedure is to automatically credit the amount from benefits and schemes by government directly into the bank accounts of the cardholders.The procedure to Link Aadhaar Card With Corporation Bank Account can be done offline.
Offline Procedure to Link Aadhaar Card With Corporation Bank Account:
This procedure is for citizens who would prefer this method due to its reliability and conventionality, and all you need to do is follow these easy steps given below to Link Aadhaar With Corporation Bank Account:
Keep your Aadhar card along with a photocopy of your Aadhar card ready and accessible.
Keep your Bank Passbook along with a photocopy accessible for the verification purposes.
Visit a branch of Corporation bank and you will be provided with an application form
Fill the form accordingly and with appropriate information.
Enter your Aadhar number correctly.
Enter the bank account details as visible in the passbook.
The bank officials will accept the form and move it ahead for verification.
Upon successful verification of your information and documents, your Corporation bank account will be linked to your Aadhar card. You will be notified by a text message or SMS on your registered mobile number or an email on your registered email address.
There is not a facility available for the citizens to link their Corporation bank accounts with Aadhar card by online method or SMS yet.
Important Documents needed to Link Aadhaar to Corporation Bank Account:
There are certain documents that are important in order to carry out this procedure, the number of documents required however for this process isn't too big, you will just need these documents to suitably apply for linking your Corporation bank account with your Aadhar card:
The original Aadhar card or E-Aadhar along with its photocopy.
The original Passbook as well as its photocopy.
The Government of India has made it compulsory for all the citizens to link their Aadhar card with certain documents. This is done in order to make sure that the benefits of government are availed by eligible citizens. If you desire to avail benefits of government schemes directly to your bank account, you need to link your Aadhar card with your bank account. The government demands citizens to link their bank accounts with Aadhar number to ensure that all the citizens receive their subsidies and benefits of different schemes by government directly in their bank accounts without any hassle or any complications.
Link Aadhar with Corporation Bank with SMS service:
Aadhaar Number Registering to Bank:
you need to SMS:- AADHAAR<space> 12-Digit Aadhaar Number<space>Account Number
Example: If Aadhaar Number to be seeded is 526525365253 and 15 digit account number is SB\01\016253
then Message should be – AADHAAR 526525365253 016253
(Leave only one space after each input)
Linking To Aadhar With Other Banks:
ICICI Aadhar Link
Axis Bank Aadhaar Link
SBI Aadhar Link
HDFC bank Aadhar Link
UBI Aadhar Link
Dena Bank Aadhar Link
Vijaya Bank Aadhar Link
Bank of Maharashtra Aadhar Link
Andhra Bank Aadhaar Link
IOB Aadhar Link
Allahabad Bank Aadhaar Link
Oriental bank Aadhar Link
UCO bank Aadhaar Link