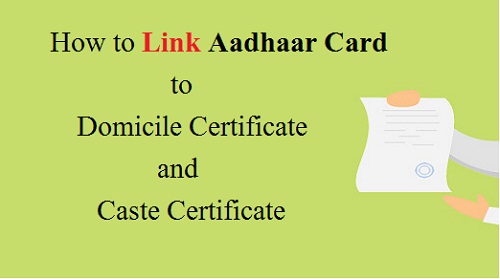 Every state government in the country is required to get all cast certificates linked to Aadhar Card. It is believed by the state officials that it is promoting revolution which will become an advantageous convenience to the citizens of India. Domicile certificates that are granted to school children are also required to be linked to their Aadhar card. Every state is required to make sure that the caste certificate and domicile certificate are granted to students who are between 5th standard and 7th standard, within a period of 60 days.The students who belong to Scheduled Caste (S.C.) and Scheduled Tribes (S.T.) are considerably elevating concerns related to delays in receiving their scholarships, hence the authorities are now focused on addressing these issues with utter sincerity. Also, individuals have raised complaints related to harassment by officers of government while they approach them to attain their caste certificates and domicile certificates.
The Ministry of Personnel has released a document titled Frequency Asked Questions on the matter of caste and domicile certificates in schools. This document mentions that the state government could make an effort to receive the students details entered into the Meta data that is to be created online, and all this information is to be linked to the Aadhar information. To issue these certificates along with Aadhar card is a matter being addressed with sincere intent.
The Unique Identification Authority of India or UIDAI issues Aadhar card which consists of a 12 digits Aadhar number that serves the purpose of a proof of identity and a proof of address which can be presented as an evident and validated Identity document in India. The concept of granting cast or domicile certificate is to ease the process of accessing genuine individuals who belong to Scheduled Caste and Scheduled Tribe to the services that are reserved and posts under the Central or State Government and get admission in Educational centers along with other facilities.
The State and Union Territory Government is responsible to issue Caste and Residency Certificates, and the document released by the UIDAI has also revealed that the particular state government or Revenue authorities would be in charge for verification or scrutinizing the documents before accepting them to issue relevant certificates. It also mentions that the duration for authorities to issue such certificates after an applicant has applied for it would be between 30 – 60 days. If you are unaware to the online PAN applying process then learn How to Apply for Aadhar Card Online.
To restrain these problems to be faced by students who belong to Scheduled Caste and Scheduled Tribe, it has been proposed that as a part of a yearly practice, to issue caste or tribe certificates along with domicile certificates to the appropriately suitable students while they are in 5th or 7th standard. The exception of this proposition is that students who do not belong to Scheduled Caste or Scheduled Tribe, are only eligible to receive a residence or domicile certificate. The final decision related to when the students would receive such certificates is exclusively a decision to be made by the state government. The principal or the Head of the School would be responsible for collecting the certificates. After the certificate has been equipped, the eligible students would receive it covered in cellophane by the school authorities. These certificated would then be in the custody of students as it would assist them to avail the concessions, facilities and advantages that are available to them and they are eligible for by belonging to their particular categories.