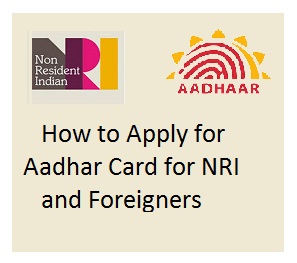 Aadhar card is an important document to validate one's identity as well as their address. It is issued by Unique Identification Authority of India or UIDAI which is an organization by Government of India. The Aadhar card consists of a 12 digits Aadhar number or Unique Identification number that contains demographic and biometric information of the cardholder. It is considered as one of the most significant document to be presented as a proof of identity and a proof of address and is inspired by the Social Security Number in the United States of America. It provides identification for every resident all across the nation and is mainly used as a base for a well-organized delivery of welfare services.
As it is clear that the Aadhar card is available to all citizens and residents through a very convenient process, including Non Resident Indians and Foreigners residing in India. Non Resident Indians weren't eligible to apply for an Aadhar card in earlier times, but Government of India realized later on the requirement for it, and then approved the availability of Aadhar card for Non Resident Indians (NRI) or Foreigners residing in India. The Indians residents could use this card for identification purposes in India but as the Non Resident Indian's population is increasing and it is considerable that they have an equally important role to accelerate the process of development in the country. Hence the government has decided to issue Aadhar card for Non Resident Indians and Foreigners residing in India.
Apply Aadhar card for NRI & Foreigners Online
A person who has resided for atleast 182 days in India in the preceding year is considered a resident and is eligible for Aadhaar Enronlent
Documents Required for the Application Process
As Non Resident Indians and foreigners residing in India can now apply for their Aadhar card, they are required to be physically present at any of the Aadhar enrollment center in India, whichever and wherever is most convenient for them to reach. The Documents required to apply for an Aadhar card for a Non Resident Indian as well as a foreigner residing in India are same as any other regular applicant. Basically there are three supportive documents required for application, one document for a proof of Identity, one document of a proof of address, and one document for a proof of date of birth.
Procedure to Apply for Aadhar Card for NRIs and Foreigners
As the documents required are also same as any other regular applicant, the procedure is also same.It is necessary for the NRI or foreigner applicant to visit an enrollment center nearby to their location. When you visit an enrollment center, you will have to follow these steps:
Firstly, you'll be required to fill out the enrollment form. This step can be done online as well.
After filling it up, submit the form along with the applicable documents. These documents will be basically an existing proof of identity and a proof of address.
When your documents and your enrollment form will be accepted, you will be asked to submit your biometric data which would involve an impression of your fingerprints and iris.
A photograph will also be captured on the move during the process.
After gathering of all the information, an acknowledgement slip of the enrollment is ought to be provided, the slip will include your 14 digits enrollment number which would suffice to facilitate in future to check the status of your application.