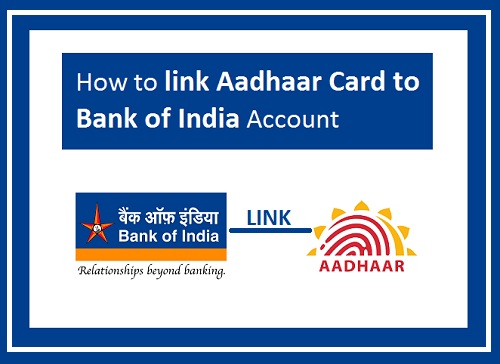 A commercial bank named Bank of India, which was established in 1906 in the city of Mumbai, used to be a private bank until 1969 after which it was nationalized. This bank has over 5000 branches all across the country and has introduced a number of excellent financial schemes and services for its account holders. One of the facility of this bank includes the ability for accountholders to link their bank account with their Aadhar card.The Aadhar is individualized identification method for citizens of India wherein all the relevant information of their data is provided including their contact information and biometric data making it the safest validation system for an individual's identity and address, and hence the government has decided to Link Aadhaar with PAN Card,  EPF Account, Income Tax Return, LPG Connection and various documents like a bank account.It is an enterprise of Unique Identification Authority of India (UIDAI).The Aadhar card has its main element which is the Aadhar number, ordinarily known as Unique Identification Number or UID.
Procedure for Bank of India Aadhar Card Link:
Bank of India Aadhar Card Link Online can be done by visiting any of their branch which is the offline mode of carrying out this procedure of linking, follow the steps mentioned below: Before going to bank please check that your Aadhar is properly updated, if not then Update Aadhar Card Details here.
Be prepared by keeping your original Aadhar card as well as a photocopy of your E-Aadhar along with your Bank of India passbook and its photocopy ready.
It is advised to write an application for requesting to link your Bank of India account with Aadhar card.
Visit a Bank of India branch that is nearest to your location and convenient for you to reach.
As you reach the branch, you shall be required to fill an application form at the bank to link your Bank of India account with your Aadhaar card.
The bank officials shall carry out the verification process.
You will be provided with the acknowledgement document for your application, you are advised to sincerely keep it safe in case of any further assistance.
After completing this procedure, and successful verification of your documents and the information provided, your Bank of India account will be linked to your Aadhar.
You shall receive a notification on your registered mobile number as a text message or SMS, and an email on your registered email address letting you know the acceptance of your application for request to link your bank account with your Aadhaar card and the updating of your Aadhar number in your account details.
Bank of India Aadhaar Link Online Procedure:
Previously Bank of India has not yet introduced the facility of linking the bank account with Aadhar card by internet banking, But now you can easily link your Aadhar with BOI Account online Via Internet Banking option, below are few simple step for BOI Aadhar Link Online:
First you have to visit Bank of India official website.
On left side of homepage you will find 'Internet Banking' option with few sub option as Retail, Corporate, Startoken-NG, Global, Here we need to click on "Retail" button.

After clicking one popup will arise asking you for the newer version of internet browser, as bank have upgrade their security features which requires newer version of browsers with there name and version details, Click "Ok" to proceed forward.

Once you successfully login to your account, you will see Password alerts option, below which there is alert"to link your Aadhaar Number", you have to click on "Click Here" button.

Then after clicking, you will landed to another page where you have to "enter your Aadhaar Number" and click on "Confirm" button.

Finally your Aadhaar Number will linked with Bank of India Account successfully.
Linking To Aadhar With Other Banks: 
ICICI Aadhar Link
Axis Bank Aadhaar Link
SBI Aadhar Link
HDFC bank Aadhar Link
UBI Aadhar Link
Dena Bank Aadhar Link
Vijaya Bank Aadhar Link
Bank of Maharashtra Aadhar Link
Corporation Bank Aadhaar Link
Andhra Bank Aadhaar Link
IOB Aadhar Link
Allahabad Bank Aadhaar Link
Oriental bank Aadhar Link
UCO Bank Aadhaar Link
Syndicate Bank Aadhaar Link
Indian Bank Aadhaar Link