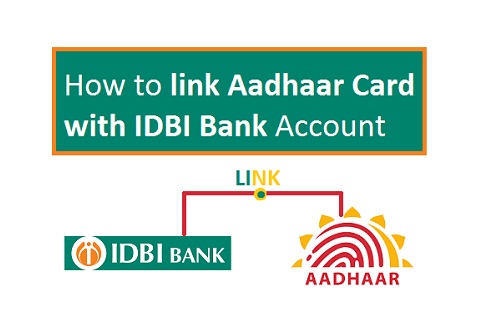 Aadhar card is one of the most important documents to validate one's identity as well as their address. The requirement of an Aadhar card cannot be expressed well enough, as it has been announced by the Government of India to initiate a program of linking Aadhar card to various documents to make all governmental schemes more convenient including linking of bank accounts with Aadhar card. The account holders of IDBI bank may choose any of the methods which include online or offline to link bank accounts with Aadhar card.
Important Documents Necessary for IDBI Aadhar Link:
These are certain documents that are required for the implementation of the linking process of Aadhar card and bank account:
The Original as well as a photocopy of the bank account Passbook.
Aadhar card or E-Aadhar (Aadhar number being the essential requirement).
Online Procedure to link Aadhaar Card with IDBI Bank Account:
The process of linking an IDBI Bank account with Aadhar card is very effortless and time saving and there's no need to go anywhere if you have access to a computer and internet, as compared to the offline process which requires some time and effort. The online procedure is also quick to be completed, so it is advised to have your internet banking enabled. When you have enabled your internet banking you can easily link your bank account and Aadhar card online by following these steps:
Visit the official website of IDBI Bank and find Net Banking Option there.
Select the "Personal" or "Corporate" as per your account.
Login with your Customer ID and Password.

After Successfully Login, Find "Request" Button on Top Right side of the Page as shown image below.

Select the option "Aadhaar Linking Request".

Now you need to enter Aadhaar Number and Re-enter  Aadhaar Number, also select Account Number and tick the check box to complete the process.

Click on "Submit" button.
Before final step you were asked to confirm your Transaction ID and Password, Enter and click on "Confirm" button.

Finally you will find one message contain "Your Aadhaar Linking Request No.***** will be processed within 3 working days".

You shall receive a notification in the form of an email on your email address or SMS on your registered mobile number informing you the successful linking of your bank account with Aadhar card.
Offline Procedure to link Aadhaar to IDBI Bank Account:
The method of linking procedure by visiting a branch of IDBI is the offline mode and is generally most trusted as considered by the majority of account-holders. This method is generally preferred more by account holders as it is the reliable and conventional method which is used by the citizens. If you opt for this method then follow the steps mentioned below to link your IDBI Bank account with Aadhar card:
You must bring your original document along with Aadhar card, bank passbook as well as their photocopy.
Visit an IDBI branch nearby or convenient for you to reach.
When you visit the branch, you shall be given an application form to link your IDBI Bank account to your Aadhar card.
Fill the form carefully with all information precisely.
Submit it after filling it out to the bank officials.
The bank officials would require to see your original documents for verifying the photocopies if needed and will return them back to you after they're satisfied with the authenticity of the documents.
When all this will be done, the IDBI Bank would initiate the Aadhar Verification Process.
By successful verification of your documents and information provided, your Aadhar card will be linked with your IDBI Bank account.
The bank would notify you by sending either a text message on your registered mobile number or an email on your email address.
As of now the mode of linking IDBI bank account with Aadhar card is not available by sending a SMS from registered mobile number or by visiting an ATM.
Linking To Aadhar With Other Banks: 
ICICI Aadhar Link
Axis Bank Aadhaar Link
SBI Aadhar Link
HDFC bank Aadhar Link
UBI Aadhar Link
Dena Bank Aadhar Link
Vijaya Bank Aadhar Link
Bank of Maharashtra Aadhar Link
Corporation Bank Aadhaar Link
Andhra Bank Aadhaar Link
IOB Aadhar Link
Allahabad Bank Aadhaar Link
Oriental bank Aadhar Link
UCO Bank Aadhaar Link
Syndicate Bank Aadhaar Link
Indian Bank Aadhaar Link
Bank of India Aadhar Link
Union Bank of India Aadhar Link
Canara Bank Aadhaar Link
Central Bank of India Aadhar Link
Citi Bank Aadhar Link
Bank of Baroda Aadhar Link
Kotak Mahindra Bank Aadhar Link
Punjab National Bank Aadhaar Link