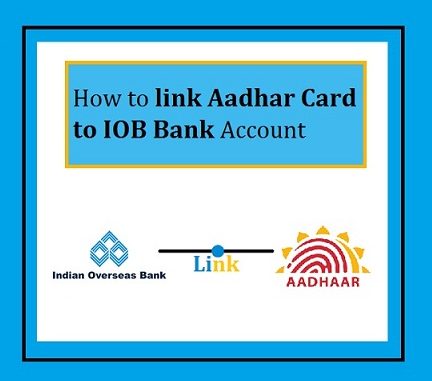 As the importance of Aadhar card is increasing day by day, the Government of India has decided to link Aadhaar Card to Voter ID, LPG Gas Connection, Ration card, Digilocker and different documents to make the process of availing services more convenient. Aadhar card is an individualized identification system that contains all personal information and basic contact details along with the demographic and biometric details of a citizen, it is very helpful in availing benefits and services announced by government of India to all the eligible citizens. The Reserve Bank of India (RBI) has clearly instructed banks to provide the facility of linking bank accounts with Aadhar card. The intent of this program is to credit the amount from benefits and services of governmental schemes directly into the bank accounts of the accountholders. The procedure to link an Indian Overseas bank account with Aadhar card is to be carried out offline by visiting the bank with all the appropriate documents.
Offline Procedure to Link Aadhaar Card With Indian Overseas Bank Account:
Offline process for IOB Aadhar Link, for that you need to visit a IOB branch, this procedure is for customers who prefer this method due to its ability to be reliable as the account-holder witnesses the procedure. Follow the steps mentioned below to execute the offline procedure to link your Indian Overseas bank account with your Aadhar card:
It is necessary to have your original Aadhar card as well as a photocopy, along with your original bank passbook and its photocopy with you.
You ought to write an application to request for linking your Indian Oversea bank account with your Aadhar card.
Visit any branch of Indian Overseas bank that you may easily be able to approach.
Ask at the desk for an application form for the procedure of linking your Indian Overseas bank account with your Aadhar card.
Fill this form clearly and check the details you're mentioning in it.
Submit the form to the bank officials.
You would have to show your original documents to the bank officials for verification of the photocopies and you will get your original documents back after the verification process is completed.
You will be receiving the bottom part of your application form as an evidential acknowledgement receipt.
After all this procedure, the bank would initiate the verification of your Aadhar card and your information aforementioned.
When they're satisfied by the verification of your documents and information provided, your Aadhar card will be linked to your United Bank of India account.
You would be notified through a text message or SMS on your registered mobile number or as an email on your email address regarding the positive status of your linking request application.
Online Procedure for IOB Aadhar Link:
You can update or add Aadhaar Card Number in IOB Bank Account Online, just by following few steps below.
First you need to visit IOB Internet Banking official site, i.e, https://www.iobnet.co.in
Now you have to login to your account (if you have already registered to IOB internet banking), click on "Individual Login" Button. If not then get first registered.

After clicking you will be redirected to IOB Net-banking Login Page, Here you have to enter your login details as Login ID and Password and click on "Submit" Button. Also you have other option to recover your password or register if you are new user.

After login to your account, on top menu you will find "Edit Profile" Option, click on Edit profile.
After clicking you will have various option on the left side of the page as profile, Aadhaar details, change password, change pin, change fund transfer etc, here you have to click on "Aadhaar Details" Button.

On clicking on Aadhaar Details, You will see two option there as 'Update Aadhaar Number' and 'View Status', If you already update your Aadhaar Number then you can view your linking status, if not then click on "Update Aadhaar Number".

Now you will land to next page where you have to select your IOB bank account number to which you want to link Aadhar, then click on "GO" button.

Next you will be redirected to another page where you have to enter required details like Select the Customer ID, Aadhaar Number (12 Digit), Name (as per Aadhaar), Date of Birth and tick on check box and click on "Submit" Button.

Finally you have successfully linked your Aadhaar with IOB Account Online, Now you can View Status of your Aadhar, you will find status as "Aadhar is linked with Account Number".

Hope this steps will help you to link Aadhaar card to Indian Overseas Bank Account online.
Linking To Aadhar With Other Banks:
ICICI Aadhar Link
Axis Bank Aadhaar Link
SBI Aadhar Link
HDFC bank Aadhar Link
UBI Aadhar Link
Dena Bank Aadhar Link
Vijaya Bank Aadhar Link
Bank of Maharashtra Aadhar Link
Corporation Bank Aadhaar Link
Andhra Bank Aadhaar Link
Allahabad Bank Aadhaar Link
Oriental bank Aadhar Link
UCO bank Aadhaar Link