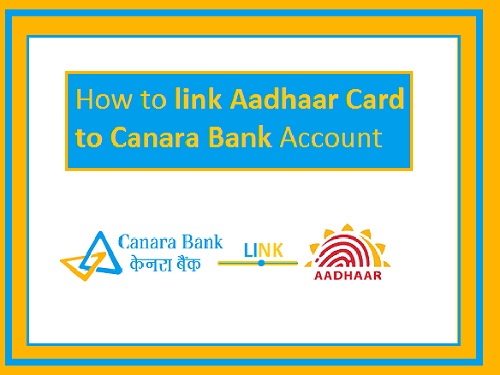 Canara Bank Aadhaar Link: Canara bank was established in 1906, with Bengaluru as its headquarter. It is among the oldest banks in India and provides a number of financial products in terms of investment banking, consumer banking and commercial banking. Now they're also providing the facility of linking bank accounts with Aadhar card. Aadhar is an individualized identification system that contains all personal information and basic contact details of a citizen, it is very helpful in availing benefits and services announced by government of India. It has been decided by government of India to introduce a system to link Aadhaar Card to HP Gas Connection, PAN Card,  EPF Account, Income Tax Return and various documents to make all governmental schemes more convenient. The Reserve Bank of India (RBI) has clearly instructed banks to provide the facility of linking bank accounts with Aadhaar card. The concept behind this procedure is to credit the amount from benefits and schemes by government directly into the bank accounts of the cardholders. The procedure to seed Canara Bank Aadhar Link can be done online as well as offline. If you already have registered for internet banking you may go ahead with the online procedure, if not then there is also an offline method available.
Offline Procedure for Canara Bank Aadhaar Link:
Method to link Aadhaar Card to Canara Bank Account Offline is quite lengthy and time taking, here you need to visit a Canara bank branch nearest to your location, this method is appropriate for account holders that are not comfortable with the online process. In case you do not have your internet banking enabled, there is no need to frown upon because you can follow the steps given below and simply go for the offline process:
Make sure you keep your bank's passbook accessible for account details, Aadhar card print out with a photocopy of the same.
Visit a Canara Bank Branch nearby to your location.
You shall receive an application form once you reach the branch.
Fill in the form with relevant information.
Enter your Aadhar number and bank details, check your information and rectify it.
Submit the completely filled out form to the bank official along with a photocopy of Aadhar card.
Present your original Aadhar card or E-Aadhar card in order to verify the photocopy.
Your application will be accepted by the bank official along with the photocopy of your Aadhar card for any verification purposes in future.
Upon successful verification of your information, your Aadhar card details will be updated to your Canara bank account and you will receive a notification as a text message on your registered mobile number and an email on your email address, informing you the status of your application.
Online Procedure to Link Aadhaar card to Canara Bank Account:
To link Aadhaar to Canara Bank Account Online is very effortless and time saving and there's no need to go anywhere if you have access to a computer and internet, as compared to the offline process which requires some time and effort. The online procedure is also quick to be completed, so it is advised to have your internet banking enabled. When you have enabled your internet banking you can easily link your bank account and Aadhar card online by following these steps:
Visit the official website of Canara bank and login to your account of internet banking.
You will receive a One Time Password on your registered mobile number
Enter the OTP correctly.
Provide your 12 digits Unique Identification number or Aadhar number.
Click on "Submit" button for linking.
Your Canara bank account will be linked to your Aadhar card after successful execution of this process. You shall receive a notification on your registered mobile number and email address informing you of the successful procedure.
The Canara bank is not currently offering the facility to link bank account with Aadhar card by sending a SMS from registered mobile number or by visiting an ATM.