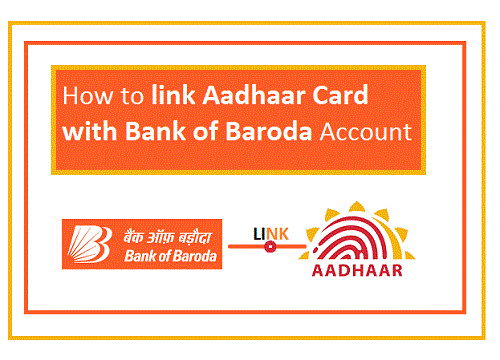 The process of linking your bank account to your Aadhar card can be highly beneficial in terms of a lot of governmental schemes and services. Even Bank of Baroda customers can now link their accounts to Aadhar card. It has been decided by government of India to introduce a system to link Aadhaar Card to LPG Gas Connection, Ration Card, PAN,  EPFO Account, ITR and various documents to make all governmental schemes more convenient, like Bank of Baroda Aadhar Link. The intent of this procedure is to credit the amount from benefits and schemes by government directly into the bank accounts of the cardholders. In case you have your internet banking enabled you could go for the online method or else you can opt for the offline method or you may even go ahead with the SMS method.
Offline Procedure to link Aadhaar Card with Bank of Baroda Account:
This method of linking procedure is usually the most trusted way considered by the majority of account holders. This method is generally preferred more by account holders as it is the reliable and conventional method to be used by the citizens. If you want to go ahead with this method then follow the steps given below to link your Bank of Baroda account with Aadhar card:
Ensure to keep your original documents as well as a photocopy, along with your original bank passbook as well as its photocopy.
Visit any branch Bank of Baroda nearby to your location.
When you reach the branch, you shall be provided with an application form to link your Bank of Baroda account to your Aadhar card.
Fill in the form with appropriate information correctly.
Submit it to the bank officials.
The officials of Bank of Baroda may need to see your original documents for verification of the photocopies and will hand over the original documents back after completion of the verification process.
You will be given the bottom part of your application form as an acknowledgement document, you should keep it safe in case of any requirement in future.
After all this procedure, the Bank of Baroda will begin with its verification of Aadhar card.
Upon successful verification of your documents and information mentioned, your Aadhar card will be linked to your Bank of Baroda account.
You should be receiving a notification as a text message on your registered mobile number or an email on your provided email address as soon as the process to link your bank account with Aadhar card is successful.
Online Procedure for Bank of Baroda Aadhar Link:
If you wish to link your bank account and Aadhar card by the online method, kindly follow the steps mentioned below:
Make sure that your Aadhar card, passbook, and registered mobile are accessible.
Visit the official website of Bank of Baroda bankofbaroda.co.in
Select from "Retail User" or "Corporate User" as per your account.
Login to your internet banking account with your username and password.
Click on the "Service" tab.
Click on the "Aadhar seeding" link.
Enter your 12 digits unique identification number (Aadhar number) precisely.
Click on "Submit".
All this information would be updated in Bank of Baroda database, and upon successful verification of your information and documents, you shall receive a notification as an email on your registered email address or as a text message or SMS on your registered mobile number.
Procedure to Link Bank of Baroda Account with Aadhar card Via SMS Service:
This process can be done by the account holders who have registered their mobile number with the bank by simply sending a text message or SMS to the bank by following these steps:
Type a text message or SMS as UID <12 digits Aadhar number>.
Send it to 5616150.
After successful completion of this procedure, you shall receive a notification as an SMS on your registered mobile number.
Linking To Aadhar With Other Banks: 
ICICI Aadhar Link
Axis Bank Aadhaar Link
SBI Aadhar Link
HDFC bank Aadhar Link
UBI Aadhar Link
Dena Bank Aadhar Link
Vijaya Bank Aadhar Link
Bank of Maharashtra Aadhar Link
Corporation Bank Aadhaar Link
Andhra Bank Aadhaar Link
IOB Aadhar Link
Allahabad Bank Aadhaar Link
Oriental bank Aadhar Link
UCO Bank Aadhaar Link
Syndicate Bank Aadhaar Link
Indian Bank Aadhaar Link
Bank of India Aadhar Link
Union Bank of India Aadhar Link
Canara Bank Aadhaar Link
Central Bank of India Aadhar Link
Citi Bank Aadhar Link