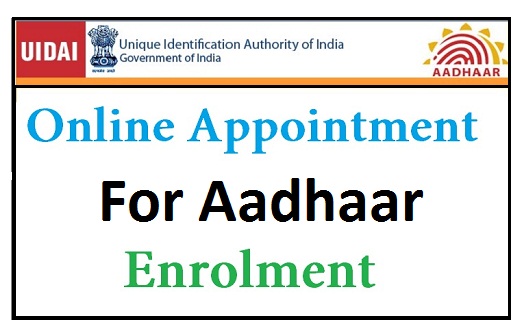 It is not absolutely necessary to book an appointment if you want to enroll for the Aadhar card program, although it will save a lot of your time as you will just need to reach on or before the time of your appointment rather than standing and waiting in the queue, and you will be assured of your enrollment done the same day. And the Unique Identification Authority of India or UIDAI has gave a lot of thought to make all of the procedure very convenient and effortless as it has provided a lot of services on its portal that ensures your booking for an appointment for Aadhar enrollment online with no hassle involved. Given below is a step by step set of instructions to assist you on booking an appointment from their website.
In case you wish to enroll in the Aadhar program, you would be required to visit one of their centers. In case you can't find a center on your own, you can look for it online easily. Follow the steps mentioned below:
Visit the official website of UIDAI uidai.gov.in
Click on the link for "Aapka Aadhar".
Click on the Resident Tab on this page.
Click on "Where to Enroll" tab given on the left side.
After scrolling down for a bit, you will find a link to "Where to enroll".
Enter your state, city, and locality details, on the enrollment page.
You can select the options for center with web appointment facility.
After you have made your choice, you will be shown with a list of places that matches your area as you have
Book an Appointment for Aadhar Enrollment Online:
As mentioned earlier, an appointment is not exactly required for the enrollment process, you could simply visit the Aadhar center and search Aadhar Card Enrollment . Even so, booking an appointment is advised in order to save time and ensure a simpler procedure as you won't need to wait for your turn in case you visit the Aadhar center without an appointment. Booking an Aadhar Card Appointment is a very convenient process and it can be easily done online.
After you have found out an Aadhar center nearby your location online, you shall see that in the last column on the result has a red dot flashing which indicates the availability of appointment booking facility, you can click on it to book your Aadhar Appointment
After the page opens, you will be able to see a form to book an appointment.
The top part of the form will gather information about your name and other contact details.
You will also get an option to mention the number of people who wish to come for the appointment and visit the Aadhar center.
Next select your city and the center that you will be able to visit.
You will also be shown an option to view the slots that are available, the booked slots would be marked in color Red while the available ones would be marked in Green color.
After selecting a slot, enter the date and time of appointment in the third section.
Enter the verification code shown on the website.
Click on "Fix Appointment" to confirm your visit.
Check all the details and make any corrections in the information if an error is present, and fix the appointment after verifying that all information entered is correct.
After doing so, your appointment will be booked for that specified day and you may prepare for the registration process beforehand.The forthcoming process is an important step to get an Aadhar card and may determine the possibility of getting assigned an Aadhar number or not. It is basically what one should expect from the Aadhar registration process.
Process to Cancel or Reschedule an Aadhar Card Appointment:
There might be chances that an applicant may face certain situations where they won't be able to be present on their appointment day for enrollment of Aadhar card. In case you have booked an appointment and due to some reason you know you won't be able to visit the Aadhar center on the day of your appointment, you can cancel or reschedule the appointment by following these steps:
Visit the official website of UIDAI and go to the page where you first made your appointment.
There will be a link "Reschedule or Cancel Appointment".
Click on the link and you will be redirected onto a new page.
You will have to enter the token number that was provided during scheduling of the appointment along with mobile number. The number must be same as the one entered previously.
Click on the "Reschedule/Cancel" option.
You will be able to choose another date and time according to your convenience for the appointment to enroll for an Aadhar card.
After following these easy steps it is very convenient for applicants to cancel or reschedule their appointment according to their situation.