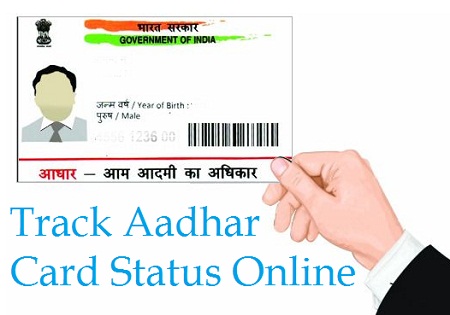 The concept of Aadhar card is steadily gaining popularity as it is extremely purposeful because of its functions to serve as an identity proof as well as an address proof. Nowadays Aadhar card is a very necessary document in all the higher educational institutions in case you want to avail the benefits of fee waiving. It is extremely effortless to apply for a new Aadhar card because Aadhar enrollment centers are accessible to almost every resident as they're present in a variety of locations in India. All you need to do is visit an enrollment center, fill out the application form with correct details, and submit your fingerprints and retina scans, and after the verification of your information by the authorities, you will receive your Aadhar card through Indian Pot at the address you have mentioned in the records.
Track Aadhar Card Status Online
If the verification of your documents and information is complete and the enrollment of your Aadhar card is successful, an enrollment slip or an acknowledgement slip will be handed over to the applicant for further assistance in future to check and track the status of Aadhar card enrollment. The date and time of appointment, along with the enrollment number is demonstrated on the acknowledgement slip. The enrollment number or EID is the most important element of the acknowledgement slip. It is highly advised to keep that acknowledgement slip safe and accessible, as well as keeping an alternate record of the enrollment number along with date and time in another secured place, as all these details are extremely serviceable and essential to be able to track the status of Aadhar. You can also know here the process to download your aadhar card online.
Process to Track Your  Aadhar Status:
This procedure will assist you to track the status of your Aadhar card. Refer to the steps given below:
Firstly visit the official website of www.uidai.gov.in
Head to the "Aadhaar Online Services" section where you will find "Aadhaar Update".
Click on "Update Aadhaar Details (Online) or " Check Update Status" for direct tracking.
You will be redirected to the Aadhar kiosk after clicking on the link, where a number of options would be visible, related to the Aadhaar Home, Instructions, Update Status and FAQ.
Select the third option on the left side that says "Update Status".
Please enter your Aadhaar and URN to check status.
You will now be able to track the status of your Aadhar card.
After your Aadhaar number has been generated, after 10 days you can track the postal status of your Aadhar card's delivery.
To check the delivery status, Click http://services.ptcmysore.gov.in/Speednettracking/Track/UIDTrack.aspx
The page will appear like this:
Enter your enrollment number along with the correct enrollment date of your appointment.
In case the mail with your Aadhar card is already dispatched and is in transit, you will be able to see its current location status.
In case you are not able to see any location details, then the mail with your Aadhar card has probably not been dispatched yet, and will be dispatched to your address shortly.