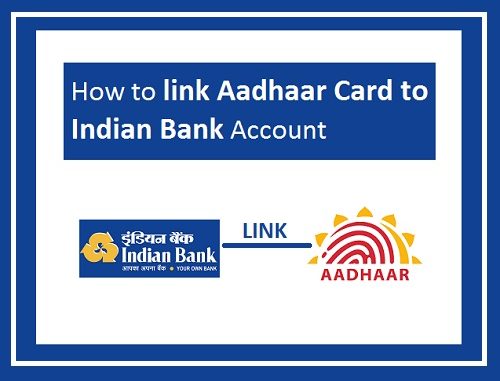 The Indian Bank is among the oldest banks of India and was founded in the year 1907, and they have more than 2500 branches all over India. This bank provides a number of convenient financial services and schemes to its customers. As the usage of Aadhar card is raising and gaining more importance day by day, it is now practicable to link bank account with Aadhar card. The concept of Aadhar card consists the process of providing each citizen with a personalized card including their unique identification number, which is made up of 12 digits. As it is understood that the Aadhar card would serve multiple purposes of delivering benefits in everyday life, it would also be accustomed as an Identity card which would be linked to bank accounts and serve in certain related activities like pension schemes etc. There is offline method available for the account holders of Indian Bank to link their bank accounts with Aadhar cards.
Offline Procedure for Indian Bank Aadhaar Link:
There account holders have the option to visit a branch of Indian Bank for linking procedure, follow these simple steps given below if you want to link Aadhaar card to Indian bank account by visiting an Indian Bank branch:
Make sure to keep your original Indian bank account passbook, Aadhar card or E-Aadhar printed out with a photocopy of the same documents, if not then download Aadhar Card here
It is wiser to write an application beforehand for Indian bank Aadhar link.
Visit an Indian bank branch close to your location.
You shall be required to fill an application form for the linking process.
Fill in the form correctly with all the appropriate information.
Submit the completely filled out form to the bank official along with a photocopy of Aadhaar card.
The bank official might need to see your original Aadhar card or E-Aadhaar card in order to verify the photocopy of the document.
You will be provided with the bottom part of your application form as the acknowledgement document for your application, and you should keep it safe for any further assistance.
Your application shall be accepted by the bank official along with the photocopy of your Aadhaar card for any verification requirement in future.
As successful verification of your information completes, your Aadhar card details will be updated to your Indian bank account and you would receive a notification as an email on your email address and as a text message or SMS on your registered mobile number, letting you know the completion of your application.
As of now, the Indian Bank isn't offering the facility to apply for the Indian Bank Aadhaar Link Online through internet banking or by sending a text message or SMS from a registered mobile number or by visiting an ATM. The only facility available presently is the offline method which is by far the most reliable method as believed by majority of the account-holders.
Important Documents required to link Aadhaar Card to Indian Bank Account:
There are certain documents that are required for the implementation of the linking process of Aadhaar card and bank account.
The Original as well as a photocopy of the bank account Passbook.
Aadhaar Number being the essential requirement.
Linking To Aadhar With Other Banks:
ICICI Aadhar Link
Axis Bank Aadhaar Link
SBI Aadhar Link
HDFC bank Aadhar Link
UBI Aadhar Link
Dena Bank Aadhar Link
Vijaya Bank Aadhar Link
Bank of Maharashtra Aadhar Link
Corporation Bank Aadhaar Link
Andhra Bank Aadhaar Link
IOB Aadhar Link
Allahabad Bank Aadhaar Link
Oriental bank Aadhar Link
UCO Bank Aadhaar Link
Syndicate Bank Aadhaar Link