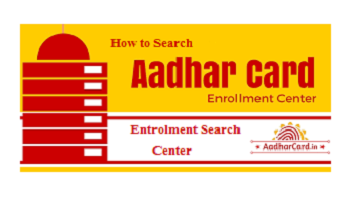 The Aadhar card has now become of the most important identity card in India, which is helpful to avail certain benefits and services from special schemes of government of India, and also for services like opening a bank account, applying for a new gas connection.
To make application for enrollment for an Aadhar card Number a convenient process, the Unique Identification of India or UIDAI has opened many Enrollment Centers for Aadhar Card across the whole country. These enrollment centers are present in almost every region of the country and are run by registrars appointed by the UIDAI. It is also very convenient to find an enrollment center online, as the complete list of enrollment centers along with their address and contact information is available on the official website of UIDAI.
Procedure to Find Aadhar Card Enrollment Centre Nearby Your location:
The UIDAI has stated a list of addresses of all the enrollment centers for Aadhar card on its official website, making it a quick, easy and effortless practice for citizens to locate the center nearby to their location. It saves a lot of time and energy of an applicant because they do not have to put any efforts of physically roaming around to find an enrollment center.Follow the steps below to find an enrollment center nearest to your location online:
Visit UIDAI official website of and Find "Aadhaar Online Services" Section.
Now Click on "Locate Enrolment Center".

Locate Enrolment Cente – UIDAI

After clicking you will be redirected to 'Enrolment Centre Search' Page.

Aadhar Enrolment center search

In the search criteria, use the drop down menu to do the following:
Select your State/UT (Union Territory).
Select your District/City.
Select your Locality/Area.
In case you want to find 'Only permanent centres', then you may click on the Gray Box present next to the option to select it.
To search the centers that provide the facility of enrollment online, Click on "Search" button.
The results of your search would provide you the list of centers in your area mentioned along with their contact details. The starting and closing date would also be displayed in the results. On the UIDAI portal, citizens can also book an appointment for enrollment of an Aadhar Card. While you visit the center to apply for the card, make sure to carry all the required supportive documents that mainly includes your identity proof, address proof etc.
In case you can't find your state or union territory in the list of the drop down menu, the reason may be that some states and union territories in India are included under the National Population Register (NPR). Registration of NPR includes registration for an Aadhar card as well. Residents who stay in any of the NPR states or union territories may visit the official website of Census of the Indian government to locate the permanent Enrollment Center that is nearest to their location.
States and Union Territories under NPR:
Arunachal Pradesh
Assam
Dadra and Nagar Haveli
Jammu and Kashmir
Lakshadweep
Manipur
Meghalaya
Mizoram
Nagaland
Orissa
Tamil Nadu
West Bengal