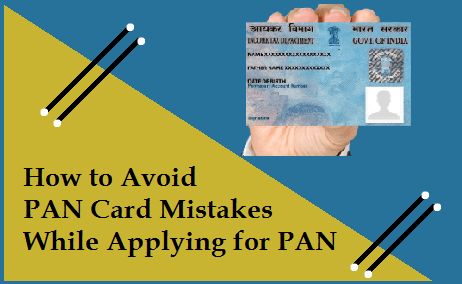 PAN Card Mistakes: PAN is one of the most necessary documents for financial transactions. It is a single alphanumeric code provided to individual or a corporate unit by the IT department. The PAN can be needed for various purposes, something as small as possessing a mobile phone number to as large as investing in mutual funds, purchasing a car, or creating a bank account. PAN is compulsory not only for taxpayers, but also for each person. Have you verify you PAN if not then Verify PAN Card Now.
Being a significant document of nationwide value, the PAN card application has to be filled up with much care in order to ignore mistakes. Sometimes in place of the safety measures taken, definite errors tend to take place.
Some Basic PAN Card Mistakes that should be avoided While Applying for PAN Card:
One of the essential things for any form is signature of the applicant. There are two places where the applicant will be needed to sign all over the photo and in the space given below. Signing anywhere out of these two given places can come out as an error which requires being corrected.
Most of the Government identity forms need to be signed using black ink. However, not many stick to it and may use blue ink for signing in. It is important to stick to the regulations and sign only with black ink to ignore any delay in obtaining the PAN card.
Many people have got first name in their names and use the same when filling up the PAN card application form. The IT department, however, does not accept only first name. Hence, it is suggested to use the full name in place of the first name.
Just like every other form, PAN card application also needs two passport sized photos to be fixed in the form. Many times, people tend to add scanned copies of their photos and that is a mistake. Scanned photos are not that much clear and may make verification of the applicant hard. Thus, only original photos should be affixed in the form.
PAN Card Mistake Correction:
It is always suggested to cross check the data when applying for new PAN card. In case, any incorrect information has been filled up accidentally, or there is an indistinct signature, photo, etc. rectifications can be done. Here is how to modify incorrect information in the application:
To download the PAN change request form, go to the authorized website of the IT department and click on "Online application for changes or rectification in PAN data".
Scroll down the page opened and choose the necessary field.
Request for new PAN card or correction in PAN data, which is a new online form. Make required changes and fill up the application form carefully. Once completed, read the form again to look if any more changes are required and click on the submit button.
After doing payment, via any of the provided modes, an acknowledgement will be downloaded, which requires being saved for additional reference. Relevant documents, along with the acknowledgement should be delivered to the below address:
Income Tax PAN Services Unit,

NSDL e-Governance Infrastructure Limited,

5th floor, Mantri Sterling, Plot No. 341, Survey No. 997/8,

Model Colony, Near Deep Bungalow Chowk,

Pune – 411016
Changes for PAN can also be applied online via UTIITSL. The official website will have a correction form, wherein the proper details have to be filled up. After the applicant has made the required changes and paid the fee, a receipt is produced which can be used for further reference. The updated PAN card will be delivered by post to the address stated in the form by the applicant.