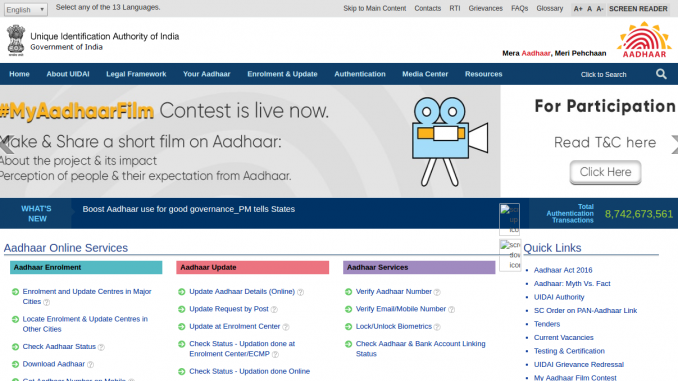 "Aadhar card" this term is what every India is now thinking about. Yes, addhar become the most important document for Indian due to daily updations in government policies where government making aadhar mandatory for people to utilize the benefits of all government services, even some private sectors also made aadhar card compulsory. And recently the government has deactivated 81 lakh aadhar card due to a mismatch in the information. In that case, you have to 100% assured about the accuracy of information that you have registered in aadhar card. Learn How to verify email or mobile number in aadhar through uidai.gov.in by following below-mentioned steps.
How to verify email or mobile number in aadhar through uidai.gov.in?
Maybe you not aware of the fact that now UIDAI also offering an opportunity to verify information on aadhar card through official website uidai.gov.in. By following some easy steps. And of course, there is no fee to pay for it and neither will you have to go anywhere. Email ID or mobile number can be verified by sitting at home through UIDAI official website. So, let us tell you how you can verify email/mobile number in aadhar:
How to verify email ID in aadhar card?
To verify your provided details in aadhar card first you have to visit UIDAI official website https://uidai.gov.in/
On the front-page, you will find a segment titled as "Aadhar services" in the below menu you will find verify email/mobile number option. Click on the link
Now you will be redirected to another page "https://resident.uidai.gov.in/verify-email-mobile" where you will find a form asking for details including aadhar card number, email ID or mobile number (enter only email ID if you want to verify email id) and captcha verification.
Enter all the necessary details here and click on get one-time password button. You will get OTP code on your registered mobile number now enter the code in the block on right side and click on verify OTP.
Now a message will display on the screen "Congratulation! The Email ID matches with our records" if your email ID matches with the registered email ID if not you have to update aadhar card details.
How to verify mobile number in aadhar card?
Verification method is similar for both verification of email ID and mobile number through UIDAI official website only change you have to made is the place where have entered your email ID you have to enter your mobile number and after verifying your OTP number you will be able to see your mobile number verification status with a message on your screen "Congratulation, The Mobile Number matches with our records!".
Hope this article will help you to find the way to verify your email ID/mobile number in aadhar. If you still not applied for aadhar card, this is the best time to apply for aadhar card before it gets too late. Both online and offline methods are quite easy to apply for aadhar card.